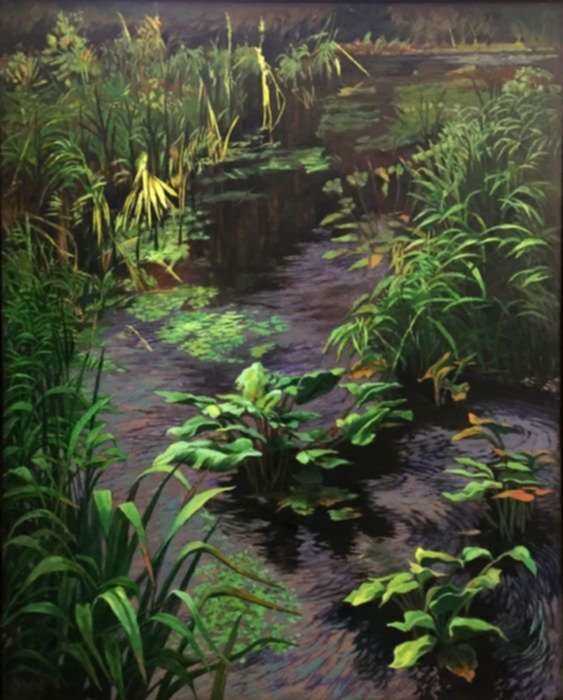 Anne Lyman Powers
American (b.1922)
Anne Lyman Powers personal statement:
I was first interested in painting around the age of sixteen. So I studied both painting and sculpture during whatever times I had free – during school, college and summers. I have always preferred realist painting with recognizable subject matter – but a subject matter that has two aspects. The first is that the subjects should be explicit – portraits, human or animal forms, landscapes, still life and so on. I have never limited myself in any way here. I say to myself that I'll paint anything, any time, anywhere. So most of it reflects my home and family, friends, occupations and travels. I feel free to absorb influences from any direction: a bit of surrealism, a bit of pop, a bit of abstract expressionism.
The second aspect addresses the object which is the painting – or whatever the work is – its composition, color relationships and texture. The considerations here should obey rules for abstraction. The marriage between these two principal aspects should be accomplished in a way which makes possible and enhances a feeling, an experience or a statement about the world in which we live or about the human condition. In short: a realist abstraction or abstract realism. That's where the interest lies for me—in the tension to be resolved.
I am lucky to be able to paint at home. In addition to my painting studio, I have a press for etching. The lithographs are printed at Fox Graphics which is located now in Merrimac.
EDUCATION:
The Winsor School; painting: David Park. Independently, sculpture: Mary Moore, painting: Ernest Thurn
Vassar College; sculpture: Elizbeth de Casimo Geiger.
Columbia University; sculpture: Hugo Robus.
Boston Museum School; painting: Karl Zerbe. Drawing and graphics: Ture Bengzt.
TEACHING EXPERIENCE:
Boston Museum School - painting instructor.
Wellesley College - painting instructor (1949-1950)
Private instruction.
SELECTED COLLECTIONS:
Boston Public Library
The Andover Companies
Harvard Trust Company
Firestone Library, Princeton University
Springfield Basketball Hall of Fame
The Boston Globe
MEMBERSHIPS:
Artists Equity, Boston Visual Artists Union, Boston Printmakers