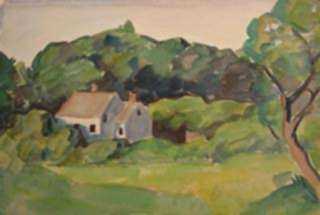 Beatrice Whitney Van Ness
American, (1888-1981)
Beatrice Whitney Van Ness, Acclaimed painter and art educator, dedicated her life to the process of learning. As a student at the School of the Museum of Fine Arts, Boston with Frank Benson and Edmund Tarbell and at Ogunquit, Maine with Charles Woodbury, she gained great proficiency as a painter. After a decade of prizes and awards she dedicated her life to art education. Van Ness taught classes at the Museum of Fine Arts in Boston, and then founded the art department at the Beaver Country Day School outside Boston. Her pioneering work ultimately inspired many of the first art education programs in public schools. From the mid-1920's, because of her teaching commitments, Van Ness painted primarily in the summers in Maine. The area radiated a brilliant summer heat, which she explored continually through light and pattern. These works of brilliant color and design evoke the rhythmic atmosphere, revealing her modern interest in the process of painting itself.
Van Ness' works range from her sensuously modeled single figures of the middle and late teens to the brilliantly toned family groups painted at Bartlett's Harbor in the 1920's and 1930's. However, these trace only the beginning of her experimentation with the qualities of light and reflection. Her later work in all media shows her intense search for innovative techniques to exploit special qualities of light. She sanded, scraped, and reworked many of her oils and watercolors, revealing white canvas or watercolor paper shimmering beneath her pigments.
She worked intensely until her 91st birthday. She died in Brookline, Massachusetts on February 11, 1981. Her works have been in many national exhibitions including at the Carnegie Institute, Pittsburgh; Corcoran Gallery of Art, Washington D.C.; Museum of Fine Arts, Boston; National Academy of design, New York; and the Pennsylvania Academy of Fine Arts. Her works are also included in many public and private collections including the National Museum of Women in the Arts, Washington D. C.; the National Academy of Design, New York; Colby College, Waterville, Maine; and the Farnsworth Museum of Art, Rockland, Maine to name a few.