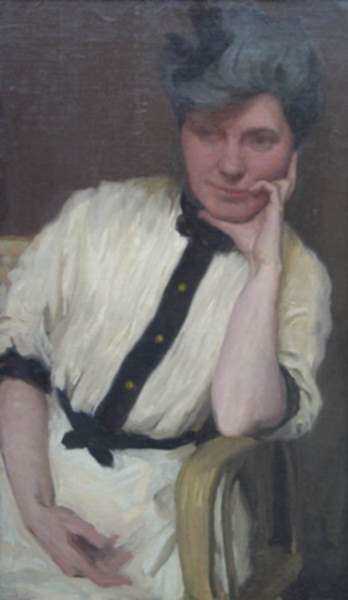 Charles Bittinger
American (1879-1970)
When Charles Bittinger sent The Black Ribbon to the Art Institute of Chicago for exhibition, he was living at 51 Boulevard St. Jacques in Paris. He had studied at the Sorbonne from 1900 to 1902, as well as at the Ecole des Beaux Arts, the Académie Delecluse, the Académie Colarossi, the Académie Julian (with J. P. Laurens) and finally in Paris with J. L. Gérôme. In 1906 he participated along with other American artists in the Salon of the Societé Nationale des Beaux Arts. In the years between 1902 and 1906 he changed addresses in Paris several times before his move to New York in 1907. The Black Ribbon was his first exhibition picture at both the Art Institute of Chicago and the Pennsylvania Academy. At the Art Institute he then exhibited almost yearly through 1932 and at the Pennsylvania Academy through 1927. While a resident in Paris he was a member of the Association des Artistes Américains.
Charles Bittinger was born in Washington, D.C. June 27, 1879. The young Bittinger attended MIT in Boston from 1898-1900. He left MIT for study in Paris. Upon his return to the United States Bittinger continued an international career as an exhibitor at major expositions. He also studied at the Art Students League in New York. He won medals at the Louisiana Purchase Exposition in 1904, the Panama-Pacific Exposition in 1915 as well as prizes at National Academy of Design, the Duxbury Art Association, the Society of Washington Artists, the Newport Art Association, and the Landscape Club of Washington. He was a member of many of the most prestigious artists' associations including the National Academy of Design (ANA 1912, NA 1937), the National Arts Club, Allied Artists of America, the Salmagundi Club, American Federation of Arts, Cosmos Club, The Colorists, the Guild of Boston Artists, the Duxbury Art Association and was president of both the Washington Art Club and the Society of Washington Artists.
Bittinger was able to move from Washington to Paris, New York, Duxbury, Massachusetts, and Boston (where he had space in the Fenway Studios), and finally to his birthplace, Washington, DC, while keeping up social and artistic contacts in each of his former residences. His work is in many museums including the St. Louis Art Museum, the Metropolitan Museum of Art, and the White House Collection in Washington.
Works by Charles Bittinger