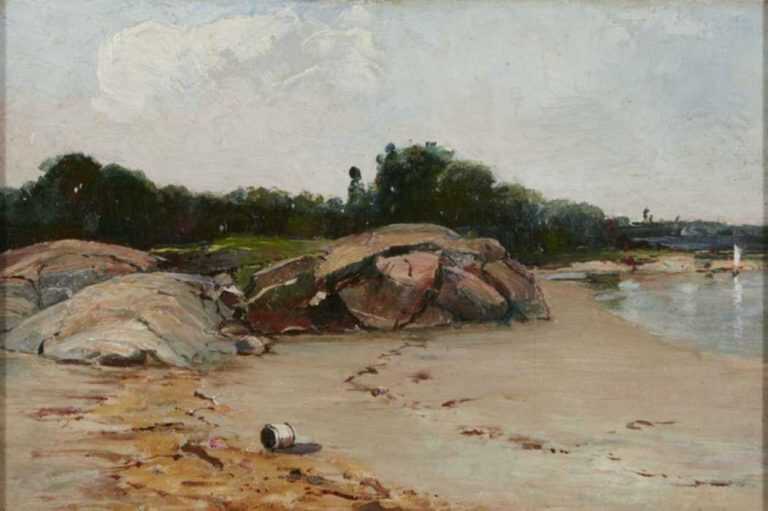 Charles E.L. Green
American (1844-1915)
At the height of his successful career, Charles Edwin Lewis Green (1844-1915), painter of "shore and landscape" was recognized for his cultural contributions to and presence in the long established and active art centers of the North Shore and Boston. A member of the school of painters now referred to as the Lynn Beach Painters, Green was praised for being "an earnest and enthusiastic worker…whose pictures show a vigorous, free handling, a fine conception of color and delicacy of feeling, that places him among [the] leading landscapists". Like his fellow artists, Green's paintings depict regional subject matter in an impressionistic style.
Born in Lynn, Massachusetts on April 26, 1844, C.E.L. Green spent the first several years of his professional life as a businessman and tradesman, following in the footsteps of his shoemaker father. In fact, he did not begin painting professionally until 1879 at the age of 35. By 1882, a short three years later, Green had left the business world entirely to pursue painting as a career – a move which would grant him great success. In the years before his turn to professional painting, Green held a number of jobs, several of which took him to Boston. These positions entailed the dealing of various products including straw, leather-board, paper, twine and burnishing ink. Also during this time, Green obtained a position as a councilman in Lynn and became a member of the Masons. He married Ruth A. Alley of Leominster, Massachusetts and the couple would have four children during their 47 year marriage.
A turning point seems to have occurred for Green following the death of his father in the summer of 1881. It has been suggested that the artist was inspired by a "new sense of freedom to move away from the path which he had been expected to take in commercial affairs and to follow his artistic instincts". Before his father's death, Green had already begun to pursue art to some degree by studying with the popular Lynn artist, Joshua Sheldon and with Otis Webber, a well-known Boston artist. He had exhibited locally at the Agricultural Society Fair and the Lynn Art Exhibition (both in 1880) and had shown, notably, with the local art dealer S.A. Barton. His skill immediately distinguished him as being on par with the other leading Lynn artists of the day, including Edward Burrill, Jr., T. Clark Oliver, F. Myron Clark and Charles H. Woodbury. But it was following his father's death that Green's artistic production notably increased and his focus shifted to Boston where he established his own studio.
In 1882, C.E.L. Green participated for the first time in the Boston Art Club Exhibition where critics praised, and would continue to praise throughout his career, his talents for capturing atmosphere, weather and quality of light; Green was consistently represented at the Exhibition for the next 25 years and his successful inclusion in the Boston art scene prompted the other Lynn Beach Painters to follow his lead by also focusing their energies in the city.
In the mid-1880's the prominent Boston gallery owner J. Eastman Chase became C.E.L. Green's principal promoter. The partnership, which involved exhibitions of Green's work, including the impressively large February 2, 1887 show of 59 paintings, gave the artist commercial success and security as well as the desire and freedom to explore new, "remote" and "unspoiled" areas in which to paint. Green spent the winter months in Boston, working in his studio and exhibiting art works. During the spring and summer, Green's travels took him home to Lynn and other areas of the North Shore including Swampscott, where he often worked out of doors painting landscape and architecture along the shore. Increasingly, these summer travels took the artist further, to Maine and Cape Breton, a county in the Canadian province of Nova Scotia, and for longer periods of time. C.E.L. Green's desire to explore new locale culminated in a trip to England, Holland, and Germany in late 1888. It was Green's time in Newlyn, a small village on the south shore of Cornwall, which is argued to be the "single most important experience of his career" in terms of his development as an artist. Like the many others who inhabited the artists' colony, Green painted in plein-air and incorporated scenes of local residents into his works. The artist also became more sophisticated in the composition of his pictures and strengthened his sensibilities for capturing atmospheric quality, like wetness, in paint; the effects of which can be seen in his works for the remainder of his career. A February 1891 exhibition at J. Eastman Chase's gallery showcased Green's efforts in Newlyn.
After his return to Boston from Europe in 1890 and before his leaving Boston entirely for his home in Lynn in 1907, C.E.L. Green expanded his "group of patrons" to include Martin Brimmer, the first president of the Museum of Fine Arts, Boston and Thomas Wigglesworth, a Boston man, who, as the owner of 23 Green paintings was arguably the most loyal of patrons. Green also participated in additional exhibitions at the St. Botolph Club in 1892, the Jordan Gallery in 1896, the Brookline Education Society First Art Exhibition in 1897 and at the Boston Art Club until 1907. In addition, Green experimented with watercolor and participated in the Boston Art Club Watercolor Exhibitions from 1895-1900. After his return to Lynn in 1907 and for the following three years, C.E.L Green remained an active artist while focusing on depicting scenes of his home and the North Shore. His final participation in a show was at the First Annual Exhibition of the Lynn Art Club on March 21, 1910 which he followed with five years of "quiet" retirement. Charles Edwin Lewis Green died on January 18, 1915 at age 70 and was buried in Lynn at the Pine Grove Cemetery.
C.E.L. Green's works may be found in the collections of the Museum of Fine Arts, Boston, the Fogg Art Museum, the Lynn Historical Society, and the Western Reserve Historical Society, Cleveland.
Sources:
Green, C. E. L., Frederic Alan Sharf, and John Hardy Wright. C.E.L. Green, 1844-1915: Shore and Landscape Painter of Lynn and Newlyn. Salem, Mass: Essex Institute, 1980.
Howlett, D. Roger. The Lynn Beach Painters: Art Along the North Shore, 1880-1920. Lynn, MA: Lynn Historical Society, 1998.
Works by Charles E.L. Green