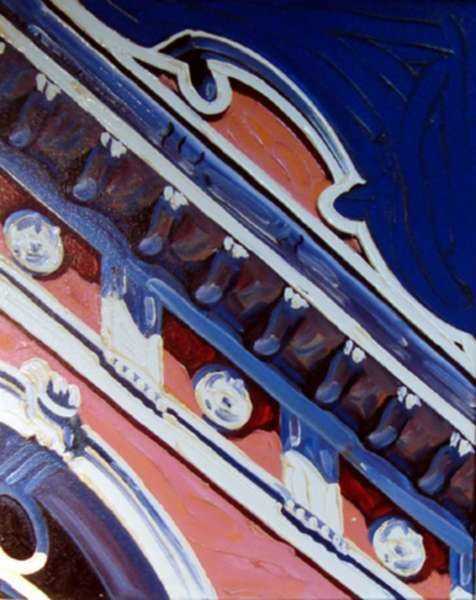 David D. Howlett
American (b.1955)
David D. Howlett was born in Syracuse New York, August 9, 1955. In high school he worked under the legendary Gordon Muck, who encouraged young artists with talent to pursue careers. After entering Syracuse University, Howlett spend his junior year at the Hornsey School of Art in London, graduating from Syracuse with a BFA in 1977. He credits Jerome Witkin as the most influential painter at Syracuse.
Davis Howlett then moved to California where he maintained an art and design business until 1988, when he returned to upstate New York. Since then he has divided his time principally between Madison County, New York and San Juan, Puerto Rico.
As David Howlett wrote of his own work in the early 1990s:
"My work was entitled FRESHPAINT in 1990 when art professionals and others referred to the unmixed oil colors as 'fresh.' Since then, a conscious effort has been made to maintain a clarity of color and contrast, achieved by accepting the first mark made as the will of the paint.
"The development of this style is part of a continuing process. This process has depended on the interrelations of several factors: architecture, as a ready source of subject matter, oil paint, whose brilliant nature is best retained by avoiding repeated modification; and pochades, small oil sketches which were instrumental in consolidating a working aesthetic.
"The pochade format for sketching was adopted when drawing and watercolor were found to provide insufficient information about color and light. In satisfying these requirements new challenges and opportunities were presented. The small format and sketch attitude encouraged casual painting techniques and higher production. These factors obscured much of the drawing, making a closer view necessary to regain recognizability of details. Realizing that specific parts of buildings were what attracted the eye, suggested the almost abstract compositions that ensued.
"These images of San Juan, Puerto Rico represent some examples of the subjects ht helped inspire this style. Exposure to the variety of unfamiliar Spanish Colonial architectural styles made it possible to appreciate their uniqueness with a 'fresh eye.' The brilliant light and tropical colors seemed to require a paint with a life of its own.
"The practice of adding significant amounts of oil to the paint made it extremely difficult to control and consequently gave it a veritable free will. In keeping with this attitude it was also discovered that this inherent life was enhanced by beginning and ending each piece in one sitting.
"These factors combine to create a painting style which is direct and immediate. Difficult aesthetic decisions are garnered from the finished sketch before attacking the larger canvas with the same cavalier attitude which made the pochade 'FRESH.'
"David D. Howlett"
JURIED EXHIBITIONS - ONE MAN SHOWS
1998
LA BIENNAL EXPOSICION DE SERIGRAFIA Y ARTES GRAFICAS LATINA AMERICANA
La Batteria, Old San Juan, Puerto Rico
(silkscreen show poster for "Viennen las Virtudes")
ONE MAN SHOW - "VIENNEN LAS VIRTUDES" ("The Virtues are Coming")
Taller Lizette, Old San Juan, Puerto Rico, Feb.-Mar. 1998
(13 oils on canvas of classically sculpted figures, interview featured on TELEMUNDO)
1996
ONE MAN SHOW - BOSTON SYMPHONY HALL (Season Opener)
Sept.-Oct. 1996
(50 oils on canvas and linen of semi-abstracted architectural details from U.S. and P.R.)
1993
ONE MAN SHOW - COOPERSTOWN ART ASSOCIATION
Cooperstown, NY
24 oils on canvas - architectural detail pochades - upstate New York
COPLEY SOCIETY OF BOSTON - ANNUAL JURIED EXHIBITION
Aug. 1993
Boston, MA
1992
ONE MAN SHOW - FENN GALLERY
Old San Juan, Puerto Rico Feb.-Mar.1992
(70 oils on canvas and linen - architectural details, street scenes and figures)
(Studio interview featured on "TU MANANA" Channel 11, Old San Juan, P.R.)
1992-1-0
NEW YORK STATE FAIR - INTERNATIONAL JURIED EXHIBITION
Syracuse, NY
(1st prize, `93, 2nd prize, `92, 3rd prize `91) for painting
1989
"OPEN CRITIQUE II") EVERSON MUSEUM OF ART (invitational)
Aug. 1989
Syracuse, NY (presenting artist/lecturer)
1979-80
"ART IN ALL MEDIA" SOUTHERN CALIFORNIA REGIONAL JURIED EXHIBITION
Del Mar, CA
1977
TWO MAN SHOW w. Robert Thurmer
LYMAN GALLERY
Syracuse University
Apr. 1977, Syracuse, NY
1971-2-3
NATIONAL SCHOLASTIC ART AWARDS - EVERSON MUSEUM OF ART
Syracuse, NY (prizes, `71-`72, portfolio award, 1973)
________________________________________
EDUCATION
1977
POST GRADUATE STUDIES - SAN FRANCISCO ART INSTITUTE
San Francisco, CA
1973-1977
BACHELOR OF FINE ARTS: COLLEGE OF VISUAL AND PERFOMING ARTS, SYRACUSE UNIVERSITY
Syracuse, NY
(Painting major under Jerome Witkin, Printmaking minor under Don Cortese)
1975-1976
HORNSEY SCHOOL OF ART
London, England
(Studied one academic year)
________________________________________
INFORMAL EDUCATION
1978-Present
I have continuously maintained relationships with other professional artists for mutual inspiration, education and trade secrets. I have repeatedly organized, taught and attended many life-groups (figure drawing classes) over the last three decades for on-going practice and mastery with the human figure.