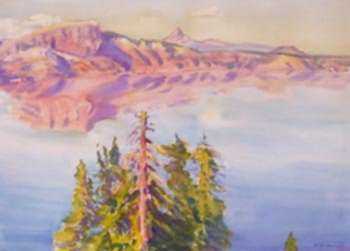 Dodge Macknight
American (1860-1950)
Dodge Macknight was regarded by many of his contemporaries as America's first modernist. He based his work upon "the solid and eternal base of continual communion with nature." In January 1902, a critic for The New Bedford Standard said, "In contemplating an exhibit of Macknight's work, one should bear in mind that he is an extremist in an extreme school. His work should not be judged merely in the light of one's own taste, but as an exposition of the artist's conceptions. Some people call his paintings mere daubs of color, others designate them as recorded thoughts transmitted through the eyes."
Born in Providence, Rhode Island, Macknight began his career in the art world as an apprentice to a theatrical scene designer and then in 1878, he entered the firm of Taber Art Company in New Bedford, Massachusetts, a company that made reproductions of paintings and photographs. In 1883, the artist migrated to Paris and entered the studio of Fernand Cormon. He spent the next three years drawing, painting and exhibiting at the Salon. Soon he set off traveling around Europe with much time in southern France, Spain and Algeria. About this time in 1886, Macknight became friends with Vincent Van Gogh in Paris, and he often visited him in Arles. Although he did not return to the United States until 1897, he continually exhibited his work at Doll & Richards in Boston from 1888 onwards. He also had a show of his watercolors at John Singer Sargent's studio in London in1890.
Upon his return to the United States, Macknight and his family settled in East Sandwich on Cape Cod where he painted winter landscapes as well as in New Hampshire. Every summer he traveled to exotic lands where he could find beautiful scenery, which he could combine with his spectacular color effects. In the beginning, the critics found his works "shocking and distasteful," although many of his peers admired them. In 1901, Isabella Stewart Gardner bought ten Macknight watercolors and hung them in a "Macknight Room" at her home on The Fenway, now the Gardner Museum. In 1907, the Boston Museum of Fine Arts purchased a watercolor, five years before they acquired the first Sargent watercolor. Macknight's significance in the late 1910s and early 1920s was great. In the 1910s Macknight added the American West to his many subjects from across the world. Crater Lake, the canyons of the south west, Grand Canyon, Brice, Zion and other spectacular scenery of the western American landscape became images for his brush.
The Boston architect, Frank A. Bourne recorded his impressions of the famous three American watercolorists show in Paris (Homer, Sargent and Macknight). After noting of the Salon of 1923, that he had had the opportunity (not good fortune) to see it, he wrote: "Just before I had seen the remarkable exhibition in Paris of the work of four Americans: Sargent, Dodge Macknight, Winslow Homer and Paul Manship. There were fresh and interesting motives in the American work that seemed wholly lacking in the long corridors of the Salon." This exhibition of three American watercolor painters, (plus the young American sculptor, Paul Manship) formed an exhibition that is mentioned and its significance weighed in every history of American watercolor. Dodge Macknight remained active until about 1930 and was so popular that his shows continually sold out within an hour or so and netted him in the region of $10,000 per exhibit. Albert Gallatin, the great collector of modern art, placed him in the ranks of Whistler, Homer, Sargent, Marin, and Demuth as one of the great American masters of watercolor. Macknight was represented in the exhibition "The Bostonians: Painters of an Elegant Age" which traveled from the Boston Museum of Fine Arts to the Denver Art Museum and the Terra Museum of American Art. Childs Gallery has several other examples of Macknight's watercolors in stock.