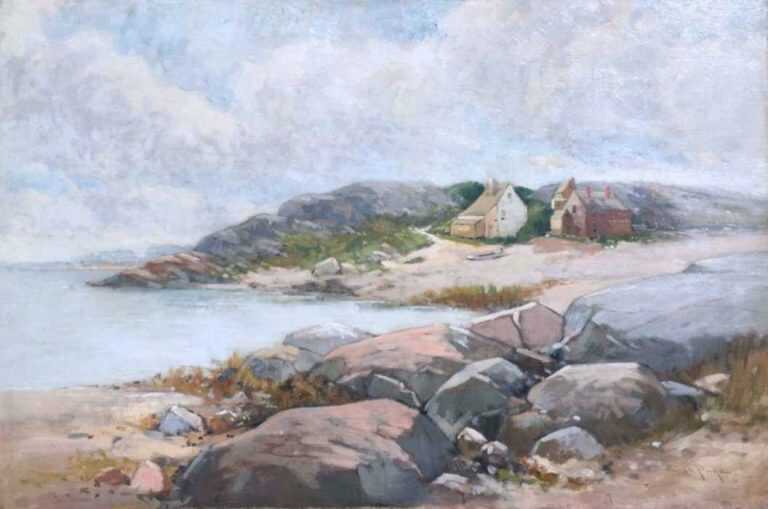 Edward A. Page
American (1850-1928)
Page was one of the Lynn Beach Painters who arrived to paint the dorymen, fishermen and clam diggers and other life of the beaches at Lynn, Nahant and Swampscott in the early 1880s. Of his group he remained the one most committed in his desire to paint the life of the beach over a long period of time. Most of the other artists in his group, including Charles Woodbury, W.P. Burpee, and C. E. L. Green, left Lynn Beach and chose other subjects by the end of the 1890s. Page continued to paint Lynn Beach subjects well into the 1920s.
Despite his interest in the local beaches, as early as the 1890s, Page was visiting further north and painted at Marblehead and on Cape Ann as well as venturing to Maine for repeated sketching trips along the coast. He was a great friend of Charles H. Woodbury and the two painted in Ogunquit, Maine after 1895.
Page was born in Groveland, Massachusetts and grew up in the Dorchester and South Boston sections of Boston. After high school in South Boston he received training in the studios of George Morse, Frederick Porter Vinton, J. Foxcroft Cole and Thomas Robinson. At the time of his move to Lynn in 1883 he began to paint the beaches and other littoral subjects that would engage him for his entire life.
Vinton, Cole and Robinson were all adept at Impressionist painting so there is little surprise in Page's having adapted this as the principal style in which he worked. Among the Lynn Beach Painters, Page tended to a lighter, brighter and more pastel palette than most of the others and broader brushwork in his use of broken color.
Page helped to form the Lynn Art Club in 1910 and was a regular exhibitor and prizewinner. He also exhibited at the Boston Art Club (1888-1909), the Providence Art Club, the Salmagundi Club, and the Worcester and Springfield Art Museums. At the time of his death in 1928 his obituary stated, "Mr. Page made a specialty of such subjects as the old Swampscott fish houses and dories on the beach, ledges along our shores, the marshes and landscapes as well as still-life, figure and animal subjects. He was also an authority and collector of antiques and his home was the mecca of many an artist and collector. …[In] Mr. Page's studio in Swampscott…he had a happy way of telling reminiscences of the many artists with whom he had held association."
For additional information see D. Roger Howlett, The Lynn Beach Painters