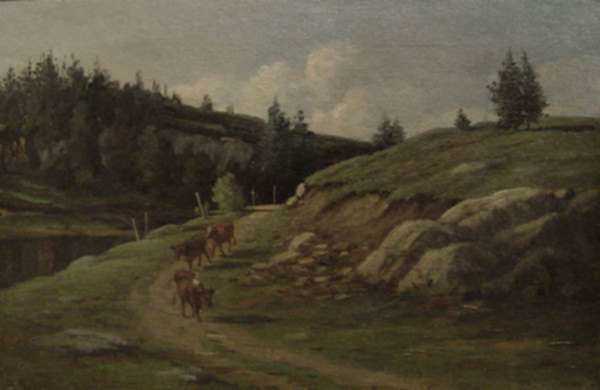 Edward Burrill Jr.
American (1835-1913)
Edward Burrill is best-known today as one of the seven Lynn Beach Painters. However, his career as a painter began, not with the better-known and later coastal subjects, but with landscapes of Boston's North Shore. These were bucolic affairs and often included well-painted cattle. Burrill first appears in 1880, for in the month of December he submitted three works: an oil painting, a watercolor, and a crayon drawing to a one-month exhibition at Silas A. Barton's Market Street Store in Lynn. Also represented in the exhibition were Charles Woodbury, Clark Oliver, and C. E. L. Green—all soon to be painting on the beaches at Lynn and Swampscott with Burrill. In this group, Burrill took first prize in professional oil, watercolor and crayon at Barton's.
Burrill, a Newburyport native, graduated from Putnam Free School in Newburyport, after which he took jobs as a photographer's assistant and architect. This eventually led to a position with the well-known Boston Lithography firm, J.H. Bufford. This job proved to be a successful fit for the young artist, and soon Burrill was drawing portraits and illustrations as head artist. His talents were recognized by Harvard's Professor Louis Aggasiz. Aggasiz offered Burrill a full-time position as an anatomical artist and draftsman. This job, at the Museum of Comparative Zoology proved to be rewarding, but not enough to keep Burrill from leaving to become an oil painter and an independent artist. Through the first half of the 1860's Burrill rented a studio on West Street in Boston with Albert Thompson, a well-noted cattle painter. It was in this environment that Burrill began to form his style. Also it was here Burrill met fellow painters: John J. Ennking, Frank Millet, Winslow Homer, Thomas Dewing, William Norton, and Joseph Cole.
In 1867 he moved to Lynn and by1874 had been hired to teach at the Lynn Evening Drawing School. With his new home and budding career, Burrill began to advance in his art over 15 years. In 1875 Burrill moved into a studio at the Savings Bank building in Lynn. Over the next years Burrill exhibited in both Boston and Lynn, helping both his career and his style rapidly advance. His first exhibition at the Boston Art Club in 1877 began a nearly quarter century of sending paintings to the club for exhibition and sale. Burrill again exhibited at Silas A. Barton's Gallery in 1882. Then in 1887 Burrill exhibited at the Lynn Grand Army of the Republic exhibition in Lynn along with Edward Page, C. E. L. Green, and Clark Oliver—all Lynn Beach Painters. His final studio in Lynn was in Lee Hall, where he moved in 1888. This space was actually adjoining the studio of T. Clark Oliver, a fellow Lynn artist. In the autumn of Burrill's life he was exhibited for the 13th and last time at the Boston Art Club in 1901. His last exhibition took place two years before his death in Lynn in 1911 at the Lynn Art Club. He died June 2, 1913 in Lynn.
Works by Edward Burrill Jr.