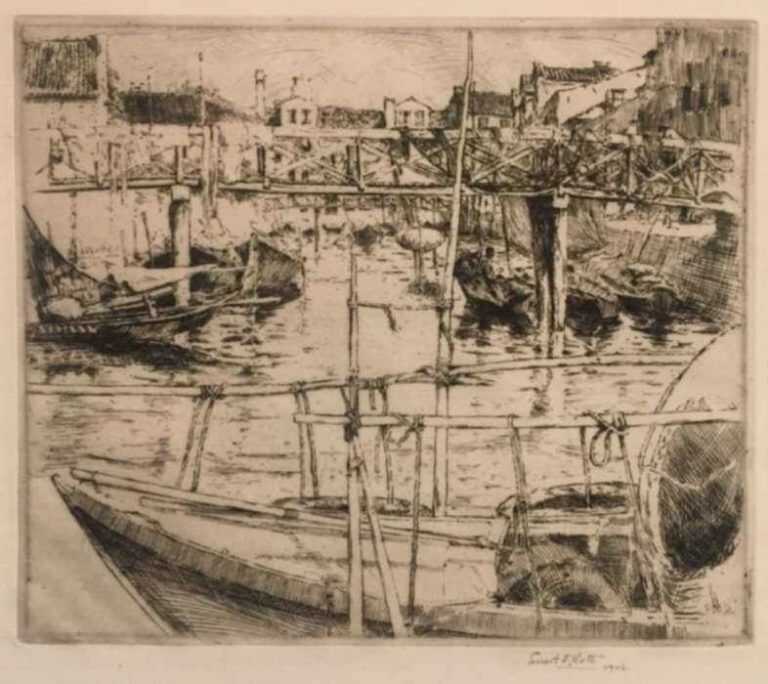 Ernest D. Roth
American (1879-1964)
Ernest D. Roth was born in Stuttgart, Germany in 1879 and immigrated with his parents to the United States at the age of five. Roth's work records the architecture of America as well as that of the many European countries, which he visited. This oil study is a typical example of his quick and sure oil sketches at the height of his career.
Roth studied painting at the National Academy of Design under Edgar Ward and George Maynard and at the New York School of Art under F. Luis Mora. He began as a landscape painter and was a regular contributor to the shows at the National Academy and at the Pennsylvania Academy. His geometric and colorful paintings usually depict views of such European towns as Seville, Segovia and Venice. As in his etching, Roth concentrated on painting simple architectural views, people rarely were included in his scenes.
His works are included in such renowned collections as the Boston Museum of Fine Arts; Art Institute of Chicago; Victoria and Albert Museum, London; Uffizi Gallery, Florence; Brooklyn Museum, NY; NY Public Library; and many others. He was awarded prizes by the Salmagundi Club in 1911, 1912, 1915, 1917 and 1918; by the Chicago Society of Etchers in 1914 and 1936; by the Society of American Etchers in 1935; and by the Pennsylvania Academy of Fine Arts in 1930. He was awarded a silver medal for etching and a bronze medal for painting at the Panama-Pacific Exposition in 1915.