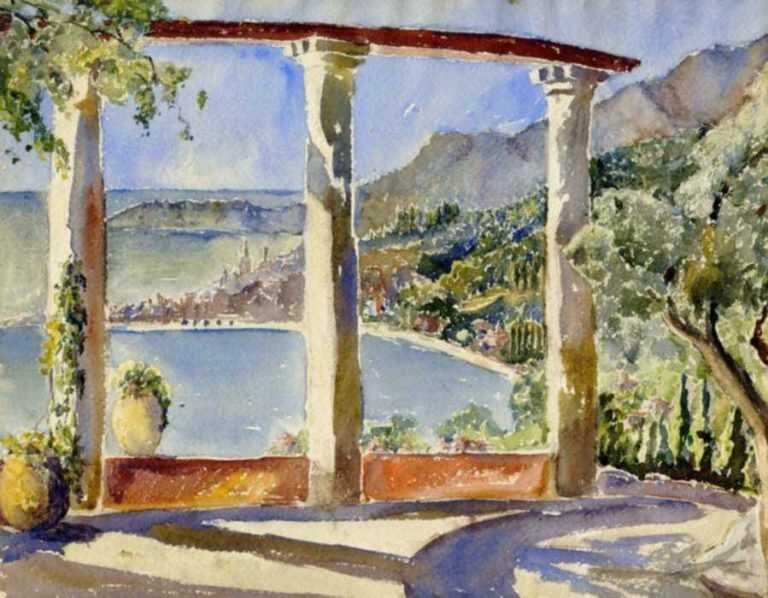 Florence Robinson
American (1874-1937)
Florence Robinson, born in the Boston area in 1874, made her way as an independent woman and painter, even in the face of family disapprobation. Her earliest known one-man show, at the distinguished gallery of Williams & Everett in Boston, already proved she had traveled extensively in Europe just by noting the subjects: France, Spain, Venice—and perhaps, more shockingly—Algiers in North Africa. She was 17 when it opened in January of 1892 with 47 watercolors. The show must have been a success because her dealers had additional one-man shows in 1893,1895 and 1896. Her very first exhibition included at least 11 Venetian views, although her training in Europe was based in Paris where she studied with Pierre Vignal, Henri Harpignies, and Dagnan Bouveret. She is also said to have studied with Whistler. In 1892 she began her salon exhibition career at the Boston Art Club and followed that by exhibiting at the Pennsylvania Academy, the Paris Salon, the Art Institute of Chicago, and the Royal Academy London.
Over the next 45 years, until her death in 1937, Robinson painted and exhibited watercolors of New England, Holland, Spain, and Belgium; but it was to France and Italy—and especially Venice that Robinson returned to ply her art year after year. From 1907 to 1915 she held a series of exhibitions at the Gallery of Charles E. Cobb in Boston, and in the 1920s she exhibited at the Brown Robertson Galleries and J. H. Strauss Gallery in New York. At the time of her death the Museum of Fine Arts Boston and the Brooklyn Museum represented her work in their collections. Her Street Scene in Venice is in the Fogg Art Museum at Harvard. The distinguished Boston painter and teacher, Philip Hale, wrote in the Boston Herald about 1910:
"Miss Robinson has at least two qualities which distinguish her work from that of many modern watercolorists. She draws well—as far as landscape and architectural drawings are concerned; and she knows how to avail herself of some of the distinguishing qualities of watercolor painting so as to gain brilliancy of effect… There is something quite original about In Front of the Salute, Venice … In a Roman Garden is a sunny affair. Miss Robinson gets her sunlight by drawing the light and shade carefully and studying the values rather than by impressionistic devices."
Her watercolors of Rome, Venice, Verona, Ravello, Capri, Pompeii, and Perugia as well as Italian gardens to show the consistency of quality and vision of Robinson's watercolor over nearly 45 years.