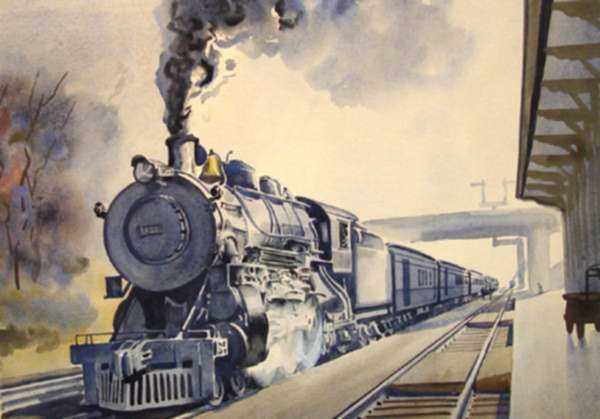 Francis Wenderoth Saunders
American (1901-1992)
Saunders began his art training at what is now called the Massachusetts School of Art. He received an A.B. in 1924, an A.M. in 1926 and an Ed.M. in 1934 in Fine Arts from Harvard. In 1925, he received a fellowship from Harvard and spent the year traveling and drawing in Europe. In addition, he studied painting for two summers with Professor Allen Philbrick at the Chicago Art Institute.
To support his wife and himself he taught painting for 30 years, and also executed illustrations for books and articles. From 1926-1930, he taught in Havana, Cuba and began writing and illustrating for the Christian Science Monitor. He taught for 16 years in Massachusetts and for two years in Long Island. He then spent 12 years freelancing while living in Maine.
Throughout his career, he completed more than 100 watercolors for Ford Motor travel publications and participated in numerous international art shows. He produced cartoon illustrations for books and articles by the Maine humorist John Gould. He wrote and illustrated three children's books: Crossroads of Conquerors (1962), Building Brooklyn Bridge (1965), and Machines for You (1967) for Little, Brown publishers. His biggest undertaking was a commission from John J. Wilson, a former Trustee of both the Museum of Fine Arts, Boston and the Massachusetts Institute of Technology, for an informal pictorial of the history of steam locomotives from 1840-1946. He completed at least 35 watercolors for Mr. Wilson.
He was active in the Maine art community and helped to found the Maine Art Gallery in Wicasset and in 1956. He was also the first Chairman of the Gallery. In 1958 he was elected to the Guiild of Boston Artists.
Saunders died September 26, 1992.