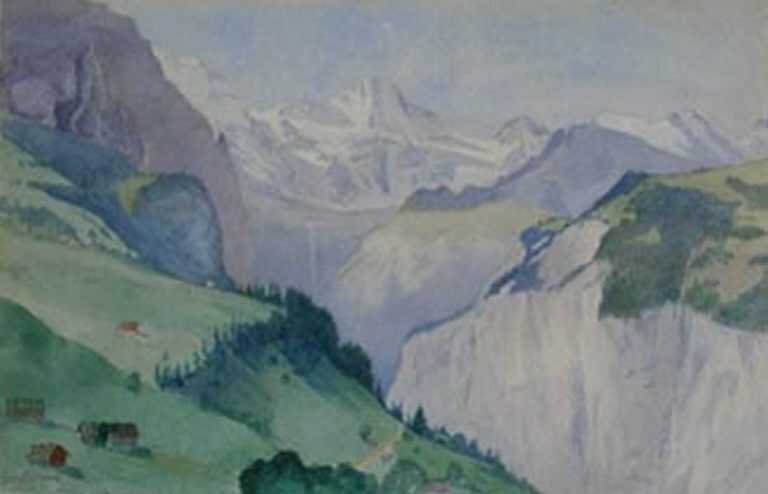 George B. Wood
American (1832-1910)
George B. Wood, Jr. was born into a Quaker family in Philadelphia on January 6, 1832. He studied at the Pennsylvania Academy of the Fine Arts and probably saw the Exhibition of English Art there in February 1858. The exhibition laid out the work of those English painters that were following the precepts of the English painter and critic, John Ruskin. Wood as well as many of his contemporaries from Philadelphia were deeply influenced by the Ruskinian ideal and began to paint according to the precepts of "Truth in Art".
Wood's neighbor and friend in Germantown, Pennsylvania, William Trost Richards, was one of the leaders of the movement and probably encouraged Wood to paint to this heightened perception of physical reality. Wood began exhibiting at the Pennsylvania Academy as early as 1858 and at the National Academy of Design by 1861. The American Ruskinians organized by 1863 with a house organ called The New Path, which was published from 1863 to 1865. His artist friends and their writings probably led to Wood's acceptance of the style and ideals of Ruskinian painting.
Wood spent the Civil War years painting mainly in the area surrounding Philadelphia, but judging from the titles of his paintings, he also took a few longer trips. In 1866 he rented a studio in central Philadelphia, and the following year he moved downtown. At about this time he began summering (and even spending an occasional winter in the early 1870s) in the Adirondacks near Elizabethtown, New York. By 1870 he was married and well established as an artist.
Wood exhibited at the Pennsylvania Academy from 1858 to 1869 and again from 1876 to 1887. He also exhibited at the National Academy of Design from 1861 to 1885. A member of the Philadelphia Artists' Fund Society, he was generally part of the artist community in that city.
By the seventies, Wood had turned from landscapes to documenting Philadelphia streets and interiors, but at the end of the decade added photography to his arts. In 1883 Wood traveled abroad, recording the sights in carefully rendered watercolors. Some of these sketches served as sources for later, more highly finished work he submitted to the Pennsylvania Academy in 1884 and 1887.
He returned to Europe in 1898 and 1899 where he executed the series of Swiss watercolors. This seems to be his final series of paintings and shows his training in Ruskinian precision and his evolution into a more relaxed aesthetic of late 19th century watercolors.