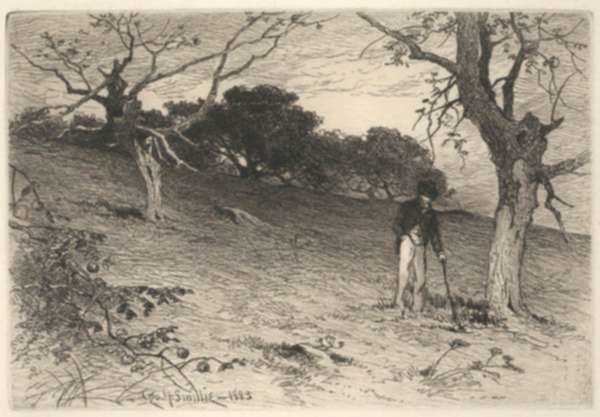 George H. Smillie
(1840-1920)
George Henry Smillie was born in New York City in 1840, the son of James Smillie (1807-1885), the famous line engraver. He studied under James M. Hart and was elected to associate membership in the National Academy of Design in 1864 and to full membership in 1882. He was recording secretary of the NAD from 1892-1902. Although he made sketching trips to the Rock Mountains, Yosemite Valley, and Florida, he is best known for his picturesque views of the New England and Long Island shores.
Smillie exhibited extensively during his lifetime at almost every major U.S. venue including the Philadelphia Centennial, Boston Athenaeum, Boston Art Club, American Water Color Society, Salmagundi Club, the Brooklyn Art Association, Art Institute of Chicago, Corcoran Gallery, Society of Independent Artists, and the Pennsylvania Academy of Fine Arts. He exhibited almost every year at the National Academy of Design from 1862 to 1921. Smillie was proficient in both watercolor and oil and exhibited widely in both media. He was also a member of the Century Association and the Lotus Club. He was honored with a medal for his painting at the Louisiana Purchase Exposition at St. Louis in 1904 and from the Society of American Artists in 1907.
In November of 1870 the New York Herald said his works…"do infinite credit tohim in their carefully finished execution and in the understanding of the subject…A certain refinement rund through all his artistic work, no matter what the subject. It enhances the charm of his more quiet scenes, modifies, without losing the character of bolder, wilder views."
A painting, East Hampton Meadows, is in the collection of the Metropolitan Museum.
Works by George H. Smillie