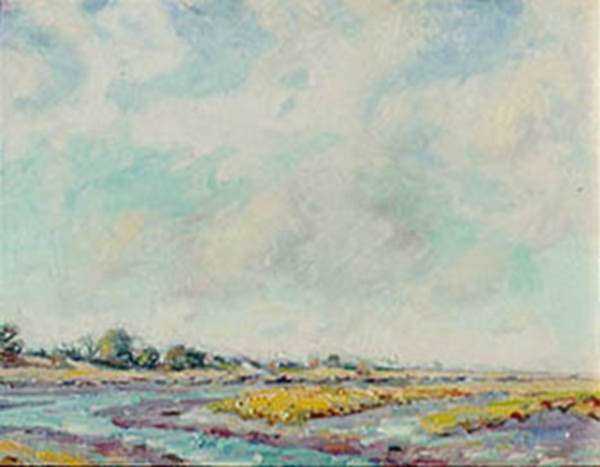 Henry Rodman Kenyon
American (1861-1926)
Henry Rodman Kenyon was one of the first Americans to join Gauguin and the circle of Impressionists working in Pont-Aven, France during the 1880's. After attending the Rhode Island School of Design from 1879 to 1882, Kenyon traveled to Paris and enrolled in the Academie Julian in 1882. He began spending his summers painting the French countryside and soon was winning recognition in both Europe and the United States. Kenyon's first one-man show, an exhibition of Pont-Aven works, was held in Providence, Rhode Island in 1886. In 1889 he exhibited at the Paris Salon.
After the Salon, Kenyon ceased his studies and returned to America. Although he would travel to Europe on several occasions, he resided in New England for the remainder of his life.
Born in Centerville, Rhode Island of Quaker heritage, Henry Kenyon loved to paint the New England countryside. At the suggestion of fellow Julian student and best friend, Arthur Wesley Dow (1857-1922), Kenyon settled in Ipswich, Massachusetts in 1901. Until his death in 1926, Kenyon spent many hours a day working outdoors, painting the scenes around him. He would begin and complete several paintings in the course of a day as he preferred working on a smaller scale. His oils seldom measure 12 x 17 inches; he thought large paintings were pretentious.
It is these small paintings from later in his life which truly epitomize Impressionism. These works reveal the artist's fascination with the play of light and color, the desire to capture a fleeting moment on canvas, and a particular use of quick, painterly brush strokes of brilliant color. A friend once remarked about Kenyon, "His only desire is to paint nice bits of color." (Frederick Moffatt: Arthur Wesley Dow (1857-1922), Smithsonian, 1979, p. 36.) One of Kenyon's favorite subjects were the haystacks found on the Ipswich marshes, a motif frequently employed by his contemporary in France, Claude Monet.
Before his death, Kenyon had exhibited numerous works at the National Academy of Design; the Museum of Fine Arts, Boston; the St. Botolph Club, Boston; the Dayton Institute of Art, Ohio; and many private galleries. He is represented in the permanent collections of the Rhode Island School of Design, The Dayton Art Institute, and Ball State University Art Gallery. The Florence Griswold Museum in Old Lyme, Connecticut and the Westmoreland Museum of Art, Greensburg, Pennsylvania have also shared retrospective exhibitions of Kenyon's paintings.
Works by Henry Rodman Kenyon