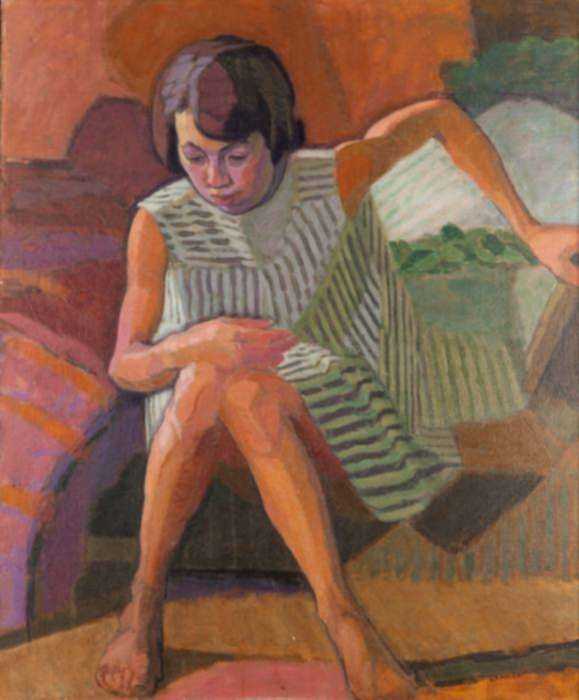 Jack Kramer
American (1923-1984)
Jack Kramer was born in 1923 in Lynn, Massachusetts. When he was ten, his father's sudden death spurred him, his mother and his grandmother to move to Roxbury, a neighborhood filled with other first-generation Jews from Russia. In 1938, he attended the Vocational High School Art Classes sponsored by the Museum of Fine Arts and the Boston School Committee, and three years later he entered the School of the Museum of Fine Arts to study under Karl Zerbe. His education was interrupted by his service in the U.S. Army during World War II.
In 1949, after the war, he completed his studies at the Museum School, after which he received the Albert H. Whitin Traveling Scholarship. This award allowed him to study in England and Europe from 1950-53, where he attended the University of Reading in England, the Academie de la Grande Chaumiere in Paris, France and the Instituto Statale Del'Art in Florence, Italy. He resumed his studies in the U.S at the Rhode Island School of Design in 1953-4 where he received his Bachelor of Arts. He spent his summers from 1955-8 serving as an assistant to renowned painter Oskar Kokoschka at the School of Vision in Salzburg, Austria.
From 1957 until his death in December of 1983, he was a member of the faculty at Boston University School of Visual Arts, where he taught drawing and painting. He was something of a rebel in an age of abstraction, as he believed deeply in the discipline of drawing. In 1972, he wrote the highly esteemed "Human Anatomy and Figure Drawing," published by Van Nostrand Reinhold Company, NY.
Kramer's work has been featured in one-man shows at the Marblehead Art Association (1958); the Carl Siembab Gallery, Boston (1958, 1960, 1961); the Boris Mirski Gallery, Boston (1964, 1966); the Salem Public Library (1973); the Shore Gallery, Boston (1976); the Boston Psychoanalytic Society and Institute (1977); and the Kingston Art Gallery (1981).
Group shows include: the National Academy of Design, New York (1956, 1981); Marietta College, Ohio (1958); the Institute of Contemporary Art, Boston (1960, 1961); Boston University (1963, 1966, 1969, 1972, 1974, 1979, 1980); Kunstsalon Wolfberg, Zurich (1969); Helen Bumpus Gallery, Duxbury, MA (1970); the Brockton Art Center (1970); the Brookline Arts Center (1973); the Arts and Science Center, Nashua, NH (1974); Contemporary Artists Gallery, Brookline, MA (1974, 1975); Museum of Fine Arts, Boston (1977); the Copley Society of Boston (1979); Sidney Hill Country Club, Chestnut Hill, MA (1980); and the Copley Society/Federal Reserve Bank Building, Boston (1980).
In 1981, Kramer was awarded the T.B. Clarke Prize for painting at the National Academy of Design in New York. In 1982, The Copley Society exhibited a collection of his work when he was chosen to be a Copley Master.