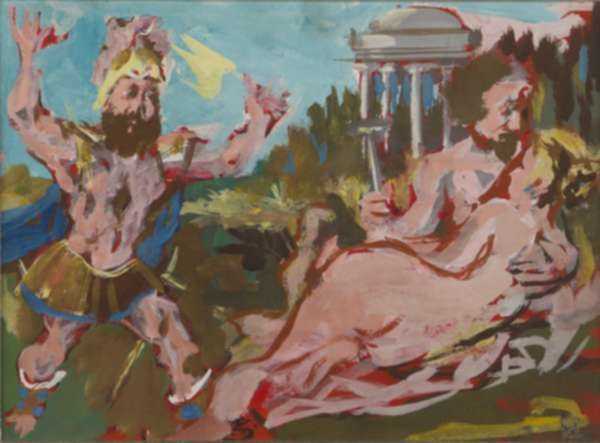 Jack Levine
(1915-2010)
Levine was born in Boston, MA on January 3, 1915). He studied drawing at the Community Center, Roxbury, MA (1924–31) and painting at Harvard University, Cambridge, MA (1929–33). Levine had a precocious talent for drawing, as is shown by the delicate and meticulous At the Watering Place (1931; Cambridge, MA, Fogg). From 1935 to 1940 he was intermittently employed by the Works Progress Administration's Federal Art Project in Boston. He established his reputation with The Feast of Pure Reason (1937; New York, MOMA), whose title comes from James Joyce's novel Ulysses. The work shows a politician, policeman and capitalist engaged in disreputable collusion, revealing Levine's interest in socially committed art. By the late 1930s he employed exaggeration and distortion to enhance the satire or pathos in his works, as in Neighbourhood Physician (1939; Minneapolis, MN, Walker A. Cent.), in which he characteristically enlarged the head and used broader, looser brushstrokes. In 1939 he had his first one-man show at the Downtown Gallery in New York, and from 1942 to 1945 he served in the US Army.
A trip to Europe in 1947 deepened his understanding of the Old Masters whose works he preferred to those of 20th-century artists. He often used their techniques, styles and subjects, as in Magic for the Millions (1948; Seattle, WA, A. Mus.), in which he adopted El Greco's Mannerist forms in a satire on religious mysticism. In the 1950s he adopted a tighter, more strongly modelled style and treated numerous biblical subjects, such as King Asa (1953; Cambridge, MA, Fogg). He also painted satires of contemporary society, such as Election Night (1954; New York, MOMA), a tawdry night scene populated with dissipated, lifeless figures. Similar works appeared in the 1960s, such as The Last Waltz (1962; Washington, DC, Hirshhorn). After earlier experiments in the 1940s, in the 1960s he also turned to printmaking, producing such powerful works as the aquatint The Prisoner (1963; Chicago, IL, A. Inst.). His later painting included the huge diptych Panethnikon (1978; priv. col., see Frankel, pp. 122–3), depicting a gathering of world leaders. He painted several biblical works in the 1980s, such as David and Saul (1987–9; artist's col., see Frankel, p. 135).
Biography courtesy of the Grove Dictionary of Art.