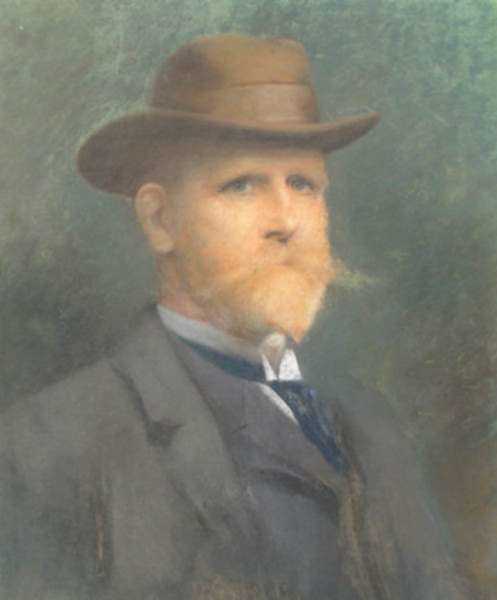 James Wells Champney
American (1843-1903)
In October of 1895, in an interview with "Art Amateur", James Wells Champney gave an autobiographical overview of his career.
"I was born in Boston Mass., on July 16, 1843. As I had always shown a liking for art, and my people were determined that I should have a paying trade, we compromised upon wood-engraving, and to a wood-engraver I was apprenticed at age sixteen. I did not remain long at the bench, however, luckily for me. We know in what straits the poor wood-engravers are in now. I wanted to be an artist. At the outbreak of the Civil War I went to the front for nine months with the Forty-fifth Massachusetts Regiment, and on my getting home began to draw upon wood for the engravers, instead of returning to work as one of them. My eyes became weakened by the constant strain of the fine pencilling then thought requisite, and in 1866, at the age of twenty-three, I went abroad, studying first in Paris as a pupil of Edouard Frère. My good teacher, however, soon perceived that I had not had the drill that was necessary to profit by his instruction, and he packed me off to Antwerp, where I spent a year perfecting myself in drawing. My first successful painting, a little genre piece, I sold to Goupil in 1869. I soon after returned to America, where I kept on painting genre subjects, signed 'Champ' to distinguish them from the works of other artists of my name, and with the exception of a few sketching trips for the magazine, there is little else to record until I began to practise in pastels in 1885.
Up to that time I had worked in oils and played in watercolors. I now found that pastels were both work and play to me. I was encouraged, too, by the appreciation of the public, expressed, as it always ought to be, in cash. I went again to Europe in 1890, for the express purpose of seeing the best pastels in the various great galleries and, in particular, to examine the condition of those that were painted one hundred and fifty years ago. I found them, for the most part, as bright, as delicate, and as charming as when they were painted. I need not dwell on the incomparable advantages of the medium. Its natural morbidezza has been imitated in oils of late years by some of the so-called impressionist painters. It is not suitable for minute work, and it constrains a man to broad handling. It is the art of all arts for the colorist; and the ease, rapidity, and certainty with which one can work in it, without being obliged to wait for colors to dry, or needing to risk hazardous combinations of pigments, should recommend it to every sincere student."
Works by James Wells Champney