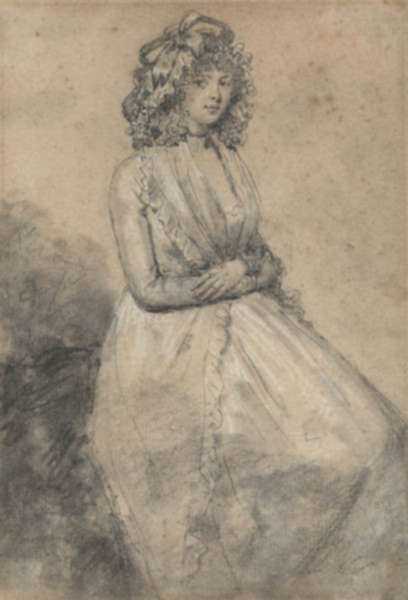 John Raphael Smith
British (1751-1812)
John Raphael Smith was a prolific printmaker, producing nearly 400 mezzotint and stipple engravings over the course of his artistic career. His work offered insightful and often satirical commentary, specifically on female morality and social conventions. Smith's success as both an artist and print dealer was due to his remarkable ability to respond to both the London and international art markets. In addition to creating and selling prints, Smith was also a publisher, draftsman, painter, and teacher.
Born in Derby, England, in 1751, John Raphael Smith was the son of artist Thomas Smith. Although he lacked any formal artistic education, John Raphael was exposed to both the work of his father and the family's rich collection of art. However, the art that John Raphael would come to produce was markedly different from the work of his father, who was a part of the sublime and picturesque movement. John Raphael worked in mezzotint or stipple instead of line engraving and favored the human figure over landscape compositions. In 1769, Smith opened a linen shop in London and that same year he produced his first mezzotint engraving. The print world in London was beginning to flourish at this time; prints were becoming increasingly popular and the establishment of exhibiting societies allowed artists to develop public followings.
From this point until 1792, the compositions of John Raphael Smith focused on female portraits. He often depicted disreputable women, often prostitutes, to comment of female morality and cultural expectations. His subjects always retained a strong sense of individuality and revealed the hypocrisy of social norms. By 1791 the changing political and economic climates produced changes in the art market with an overall decline in the exportation of prints and an increased interest in art with political or historical content. John Raphael Smith responded by creating images of slavery after the work of George Morland.
Throughout his career, John Raphael Smith took on many apprentices and pupils. His popularity is evinced by his appointment as Mezzotint Engraver to the Prince of Wales. His immense success was due to both timing and an ability to respond to the art market. He remains, today, an important figure in the world of printmaking.
Source: "Copper into Gold" by Ellen G. D'Oench
Works by John Raphael Smith