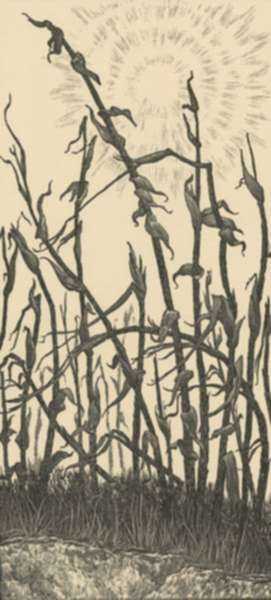 Leo Meissner
American (1895-1977)
Leo J(ohn) Meissner, American (1895-1977)
Leo Meissner was born in Hamtramck, Michigan in 1895 in the heart of the newly industrialized areas around Detroit. He enrolled at age fifteen in the Detroit Fine Art Academy where he studied with John P. Wicker (1860-1931). The exigencies of study without a scholarship or much financial support from his Bohemian immigrant parents, led young Leo to have to balance schooling in art with working odd jobs. He made his way from about 1910 until he enlisted in World War I between learning about art under Wicker and working to support his schooling. On the troop ship to France, Meissner fell in love with the turbulent swells of the Atlantic and decided that it would be a fine subject for painting. He pursued the sea as a major theme in his painting and printmaking for the rest of his life. After the war, Meissner continued to study at the Detroit Fine Art Academy where he won a scholarship to the Art Students League in New York. There he was able to study painting with Robert Henri and George Luks. With his new-found skills he got a job as assistant art director on the magazine Charm. By 1923 he was established enough at his job and had saved enough money to take a vacation. He had heard that the coast of Maine would provide good subject matter for a young artist who wanted to sharpen his skills in drawing and painting rocks, surf, and sea. After the night boat to Boston he headed to Boothbay Harbor, Maine and shortly thereafter took a fishing boat to Monhegan Island.
As he later recalled in a 1969 interview with Isabel Currier for Down East, " Monhegan was definitely the place I was looking for. The cliffs and surf and huge arch of twinkling stars overhead were completely new discoveries to the boy from New York." In that first summer he lived in a shack below White Head (one of the most famous of Monhegan's headlands) where he could draw and paint unmolested. He returned to New York with sketches and drawings that were to be the basis for a year's work of painting—and the determination to save enough money to return to Monhegan the following year.
Meissner returned to Monhegan virtually every year for more than a half century. Although he supported himself in New York first at Charm magazine and later Motor Boating magazine and maintained a residence in Yonkers, New York, he was most closely identified with Monhegan Island where he married a girl he had met on the island and eventually owned two matching houses there. He retired from magazine work in 1950 to devote his entire artistic effort to his own work—principally wood engraving in the 1950s and 1960s. Islanders on Monhegan often found themselves outnumbered in the summer by the artists from New York. Isabel Currier, however reported that one of them avowed that he was considered "one of our own. Leo Meissner's an awful hard worker; starts early every morning and never stops… he's a city fellow, but he's no slicker; a homey man, easy to talk to…his pictures make something you see every day look wonderful…can't remember the island in summer without Leo, but he doesn't seem to have changed much in all the years he's been here."
Currier continued: "The unpretentious, serenely happy object of these plaudits is one of those wiry men, slight and trim of figure, who is unlikely to have altered greatly through the years, although his close-cropped, receding hair is gray and the deeply etched lines in his angular face bespeak and asceticism that seldom is evident in youth. His scholarly countenance is warmed by deepset, alert eyes, which reflect both Meissner's response to people and absorption with what he sees. It is true that his working day on Monhegan starts at about 6:30 in the morning, and he remains shut up in his studio—in a small building across the garden from the back door of his home—until about 1 p.m. when his wife calls him to lunch."
Although Meissner was a fine painter in oil and an even more skilled pastellist, it is his mastery of woodcut, linoleum block and wood engraving that makes him the notable artist he is today. The relief block prints that Meissner produced to great acclaim—he was included four times in 50 Prints of the Year (1927-28-29 and 1933)—were exhibited in virtually every American printmaking exhibition venue. In his career of over fifty years, Meissner produced more than 150 relief prints which were exhibited in over 60 one-man shows. In 1963 there was a major retrospective which included 72 of his works at Bates College in Lewiston, Maine. He took prizes for printmaking at the Library of Congress (1943, 1945); Wichita, Kansas (1937); Southern Printmakers (1937, 1938); Detroit Institute of Art (1943, 1945); as well as many other institutions. His landscape subjects are principally drawn from New York City, the Maine coast and Monhegan Island, rural North Carolina, southern Florida, and Arizona.
Although Monhegan was the center of his artistic life and printmaking subjects for most of a half-century, Meissner also made brilliant Manhattan subjects in the 1920s and 1930s including the Plaza Hotel, Future New York, studies of Greenwich Village and scenes of life in a bygone lower Manhattan. In the early 1950s he spent time in North Carolina's Great Smoky Mountains where he chose mountain cabins, rural farms and rushing mountain streams as subjects. He then spent a season in Arizona in and around the Oracle Mountains where he contrasted his previous work in the lush mountains of North Carolina with the craggy, arid beauty of the desert landscape and flora.
In addition to his personal printmaking, Meissner instituted the Leo J. Meissner prize in printmaking at the National Academy of Design for excellence in printmaking. The prize over the last few decades has been awarded to many of the most distinguished living American printmakers. His prints are widely held in American museums including: the Metropolitan Museum of Art, Library of Congress, New York Public Library, Detroit Institute, Baltimore Museum of Art, Currier Gallery, Farnsworth Museum, Philadelphia Museum of Art, Smith College Museum of Art, Bates College Museum of Art, University of Michigan Museum of Art, University of Maine Museum of Art and others.
Meissner was first an associate and then a full academician member of the National Academy of Design, as well as the Audubon Artists, Society of American Graphic Artists, the Print Club of Albany, Boston Print Makers, Michigan Academy of Science, Arts and Letters, the Prairie Print Makers, Old Bergen Art Guild, Salmagundi Club, Philadelphia Print Club, Boston Society of Independent Artists, Audubon Artists, and many others. He was listed in the American and International Who's Who and currently has an extensive entry in Who Was Who in American Art (1999).