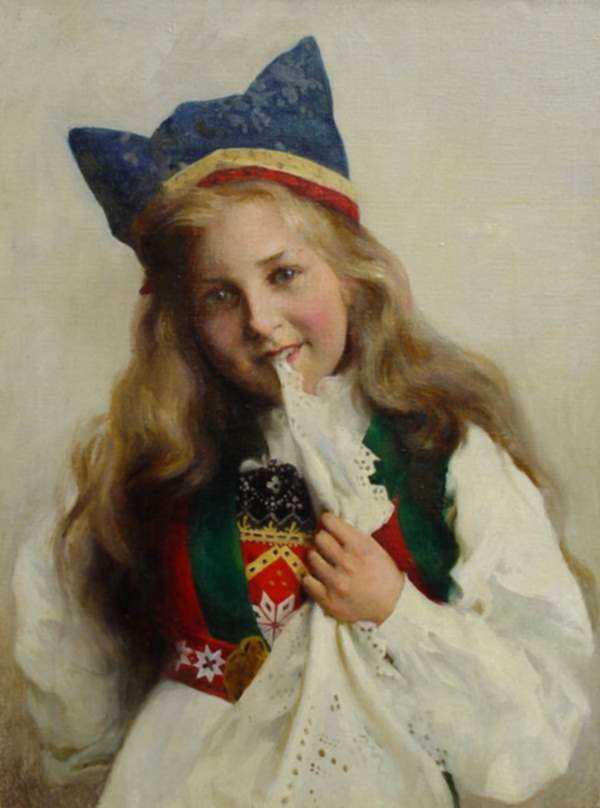 Marion Boyd Allen
American (1862-1941)
Marion Boyd Allen, American (1862-1941)
Marion Boyd Allen, a talented portrait, figure, and landscape painter, entered the Boston Museum of Fine Arts School at the age of forty in December 1902 with the encouragement of Connecticut landscapist, Charles H. Davis. The artist won her first of many prizes in the Antique Class (1903) and later a medal in Frank Benson's painting class (1907). She then went on to study with Edmund Tarbell and received her diploma in 1910. That same year, Mrs. Allen had a solo exhibition of portraits and genre scenes at the Copley Gallery, where she exhibited regularly until about 1930.
The artist's works quickly won critical acclaim, and she won the Popular Prize of the Newport Art Association in 1919 with her Anna Vaughan Hyatt, now in the collection of the Maier Museum at Randolph Macon College, Lynchburg, Virginia, and recently exhibited in the inaugural traveling exhibition for The National Museum of Women in the Arts, Washington, D.C. Mrs. Allen also exhibited at the National Academy of Design, the Pennsylvania Academy of Fine Arts, the Art Institute of Chicago, Doll & Richards and the Boston Art Club. She was also an active member of the Copley Gallery, Guild of Boston Artists, Connecticut Academy of Fine Arts, the French Institute in the United States, and the National Association of Women Painters and Sculptors. In 1986-87, the artist was represented in "The Bostonians: Painters of an Elegant Age, 1870-1930," an exhibition which traveled from the Boston Museum of Fine Arts to the Denver Art Museum and the Terra Museum of American Art, Chicago.
In the early 1920's, Mrs. Allen turned her concentration to landscapes. She first traveled to the western United States and Canada in 1922, and thereafter made annual trips to the Rocky Mountains, the Cascades in Washington, and Arizona. Her typically vertical compositions, realistically and richly painted, depicting carefully identified mountains and valleys, were exhibited regularly throughout the 1920s and 1930s at Vose Galleries, Boston.
Works by Marion Boyd Allen