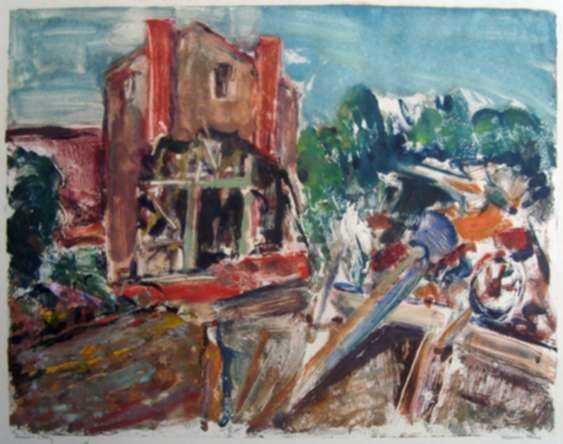 Marion Huse
American (1896-1967)
Born in Lynn, Massachusetts, Marion Huse attended the New School of Design in Boston and the Carnegie Institute of Art in Pittsburgh. Her summers were spent painting in Europe and studying with Charles Hawthore in Provincetown. In 1924, she moved to Springfield, MA. From 1925 to 1940, she founded and operated the Springfield Art School in a space adjacent to her studio.
In the 1930's, Huse was first appointed a non-relief artist under the Works Progress Administration. She later became the supervisor of the WPA for the western part of the state. At this time, too, she acquired a studio in Pownal, Vermont.
These paintings of the Green Mountains, as well as those of the streets and factories of Springfield, are typical of works of "The American Scene" and were regularly exhibited in galleries and museums throughout the country.
In the 1940's, Huse began her pioneering experimentation with serigraphy and monotype printmaking. With her marriage in 1944, she moved to Albany, NY. When her husband was stationed in France during World War II, Huse traveled with him and continued her work on the other side of the Atlantic. She is credited with having the first one-person show of serigraphs in Paris, in 1947. Even though she would return to Pownal and Albany, she made frequent return trips to Europe and became increasingly interested and influenced by European Modernism and the School of Paris.
The subjects of her prints and paintings are diverse, chronicling her many travels from New England to Canada, to Taos, to New York, and to Europe. During her lifetime, Huse was honored with numerous exhibitions and awards. Her works can be found in the permanent collections of the Fuller Art Museum, Brockton; The Museum of Fine Arts, Boston; The US State Department; The Library of Congress; The Victoria and Albert Museum, London; and many other find public and private collections.