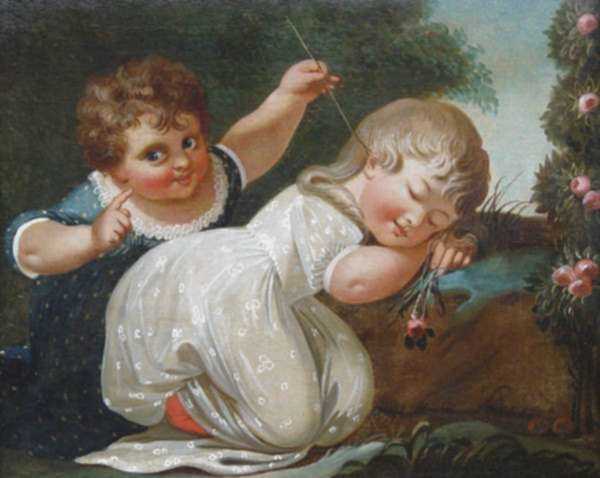 Michele Felice Corne
American (1752-1845)
Michele Felice Cornè, considered to be Salem, Massachusetts' most versatile early nineteenth century artist, arrived in America from Naples, Italy in 1800. Cornè worked and lived in Salem from 1800-06 when he moved to Boston. During his Boston tenure (1807-22) the artist was noted for painting portraits of Boston ships and naval battles of the War of 1812, as well as taking on major mural commissions. Cornè's most ambitious decorations were the wall murals which he painted for the Sullivan Dorr house in Providence in 1810. And this pair of paintings seems to date from about the same period. From 1822 to his death in 1845 he lived in Newport, Rhode Island.
Cornè was instrumental in transferring current Neapolitan painting techniques as well as Italian landscape themes to America. On the subject of Cornè's non-marine work, Nina Fletcher Little, the Cornè expert, stated: "Although Cornè's claim to twentieth century recognition has rested chiefly on his marine subjects, it is becoming increasingly apparent that he was equally successful in the charming landscapes he placed upon overmantles, firebaords, and framed canvases. Many depict the rolling countryside of his native Italy, which he copied from romantic engravings. These compositions, featuring grazing cows and frolicking peasants, are extremely colorful and picturesque. Arched bridges, steepled churches, crenellated castles, and round stone towers form most decorative backgrounds." Cornè often used Italian old master models as a basis for landscape or figure paintings.
Cornè was born on the island of Elba in 1752. During the Napoleonic Wars, he sought refuge and sailed to America on the ship Mount Vernon commanded by Elias Hasket Derby, Jr., at whose father's house Cornè resided in Salem. The artist arrived in Salem, Massachusetts in July of 1800. Derby, impressed by the Neapolitan marine paintings that he had seen and collected during his Mediterranean voyages of the late eighteenth century, sought to make the same skills available in Salem by encouraging Cornè to live and work in that town. Cornè was quite successful in transferring the current Neapolitan decorative painting to America, and his popularity grew rapidly. Cornè attracted the patronage of many in Salem, and was introduced to Samuel McIntire with whom he worked on many of Salem's houses. Between 1807 and 1809 he was at 27 Hanover Street in Boston, but by 1810 the city directories list him at 61 Middle Street. By 1822, he was settled in Newport, Rhode Island and received enough patronage to support him the rest of his life.
Cornè is well represented in public and private collections including the American Antiquarian Society, Worcester, Massachusetts, the Peabody-Essex Museum of Salem, Bowdoin College Museum of Art, Boston Museum of Fine Arts, New Haven Colony Historical Society, the New York Historical Society, Newport Historical Society, Redwood Library and Athenaeum, Rhode Island Historical Society, the Smithsonian Institution, the Society for the Preservation of New England Antiquities, the United States Department of State, the United States Naval Academy Museum, the Wadsworth Athenaeum, Hartford, Connecticut, and The White House, Washington, D.C.
See: Little, Nina Fletcher and Philip C.F. Smith, Michele Felice Cornè , 1752-1845, Versatile Neapolitan Painter of Salem, Boston and Newport, exhibition catalogue, Peabody Museum of Salem, 1972.
Works by Michele Felice Corne