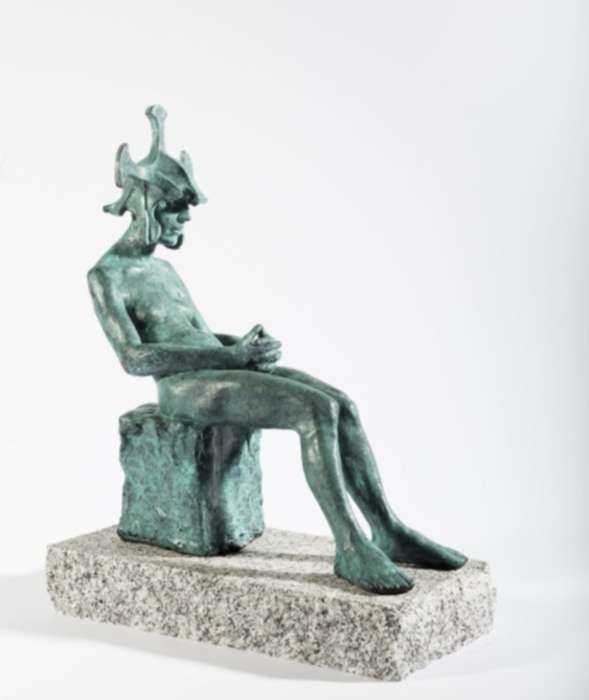 Pablo Eduardo
(b. 1969)
Pablo Eduardo has a unique and rich history as a Bolivian-born exile. Eduardo's work embraces western tradition with his Spanish-American heritage, and marries decades of training as a sculptor with an intimate understanding of his craft. With surprising humility, Eduardo seamlessly transforms his chosen subject into the allegorical. His sculptures capture a snapshot of artistic metamorphosis while celebrating rhythm, emotion, texture and tension. Eduardo's unique talent lies in his ability to connect with his subjects: like the symbiotic relationship between a needle and thread. His distinctive sculpting style honors the past with its Baroque influences, while creating compelling pieces of contemporary art. With a harmonious combination of clay, wire, steel and bronze, Pablo Eduardo magnifies the archetype of classical sculpture and merges it with a passionate independence of spirit. Eduardo's work is bold and daring while at the same time, communicates powerfully simple ideas. He deftly captures balance and precise movement, both physically and emotionally, to reveal a transcendent artistic experience for the viewer.
Pablo Eduardo's inspiration to sculpt began more than 30 years ago in Bolivia. His family's multi-generational artistic lineage laid the foundation for Eduardo to become a prodigious sculptor. From a young age, he was nurtured by the arts. Eduardo fondly recalls joining his mother for pottery classes as a young child, likely the catalyst for awakening his creative drive. His first memory of working with clay is throwing it at the wall and making masks with his brother. He started casting in Bolivia in the 1990's, salvaging copper from keys, phone wire, used gun shells, faucets, pots and pans. Today, as a prominent sculptor, he commemorates his artistic inheritance: his work gives meaning to a sense of permanence, that place we all yearn for, a feeling of "home."
Pablo Eduardo has a diverse educational background. He attended The School of the Museum of Fine Arts, Boston, and graduated from Tufts University, where he received a Bachelor of Fine Arts in 1994. From 1990-92, he completed Anatomical Studies at Tufts University Medical School in Boston, MA where Eduardo learned about the body's potential for artistic manifestation, and honed his understanding about the human form. Today, he effortlessly unifies the disciplines of art and medicine with an intimate sense of natural dynamism in each sculpture. Eduardo elegantly deconstructs his subjects, resurrecting them in bronze.
For almost 20 years, Pablo Eduardo has been a significant contributor to public works in the United States and internationally. His foremost collection of public works abroad is in the Republic of Bolivia. These include installations for the Ministry of Foreign Service; the Ministry of Culture; the National Congress; the National Secretary of Culture, City of La Paz; and Iglesia Nuestro Señor de la Exaltacion, among others. His North American installations include two bronze portrait busts for the rotunda of the Rhode Island State House, several public works in the Boston, MA area, among others. His more notable installations include a 10-foot interactive bronze sculpture of former Mayor Kevin White, the longest serving mayor in Boston history. This monument is prominently featured in Faneuil Hall. Eduardo reflected, "The sculpture depicts Mayor White leaving his administration, and his legacy, behind." While this monument pays homage to the virtues of hard work, Eduardo's 15 ft. monumental sculpture of St. Ignatius of Loyola at Boston College is a symbolic representation mystic rebellion. It offers the viewer an artistic benediction, celebrating a harmonious marriage between the aesthetic and spiritual renewal.
In 2007, Pablo Eduardo was selected to sculpt civil rights leader César Chávez, which was the first statue of a Hispanic person to be installed on The University of Texas at Austin campus. Eduardo expressed, "I am truly honored to have the opportunity to sculpt the journey of one of my personal heroes. When I was growing up as an exile, my family looked up to him as an example of tenacity and resilience. This concept of adaptability and innovation had a direct impact on my own creative revolution. It has been the cornerstone of my artistic approach." This amalgamation of political, psychological and cultural influences that have molded Pablo Eduardo as an artist is evidenced in his unique thematic interpretation of each piece he produces.
Additionally, Pablo Eduardo has been prominently exhibited in several museums and corporate displays. He has an iconic collection of commissioned private portraits here and abroad, which includes more than 20 pieces. His works range in scale from 6 inches to 20 feet.
In the upcoming year, Eduardo plans on completing several large-scale commissions while creating a series of small-scale works. Pablo Eduardo lives in Gloucester, MA, and works out of his private studio where he shares his talent and knowledge with many local artists and apprentices. This thriving but tranquil environment inspires transformation and mystical alchemy: it is where Pablo Eduardo mines for truth and authenticity with his work. The finished piece is an honest reflection of his journey, and of the joyous struggle of its completion.