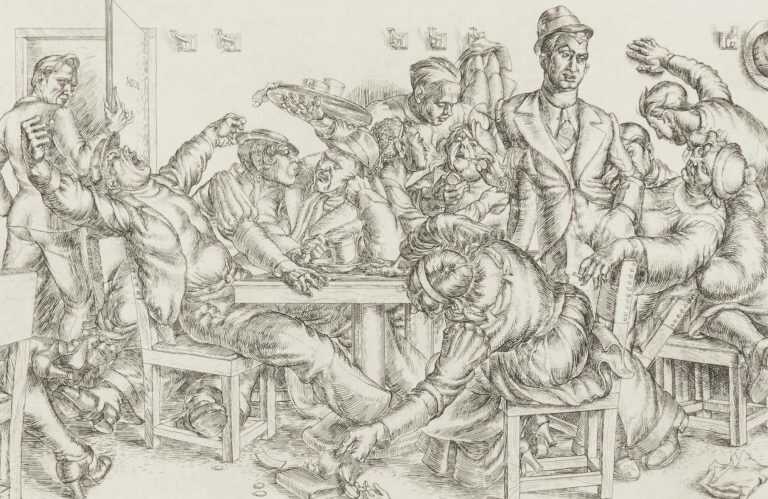 Paul Cadmus
American (1904-1999)
Paul Cadmus was born in New York City on December 17, 1904 to Egbert Cadmus a watercolorist, and Maria Latasa Cadmus, an illustrator of children's stories. In 1919 he entered classes at the National Academy of Design and completed his courses there in 1925 having received the Suydam Bronze Medal for drawing, the Hallgarten School Prize and the Tiffany Foundation Scholarship. The same year he began studying etching with Joseph Pennell at the Art Students League. From this time through the early 1940s, Cadmus availed himself of the Saturday morning life drawing classes at the Art Students League. In 1935 Cadmus was elected vice president of the Board of Control of the Art Students League.
In 1934, controversy erupted over Cadmus' painting The Fleet's In! when it was shown at the Public Works of Art Project exhibition in Washington at the Corcoran Gallery. Prior to opening, the Assistant Secretary of the Navy saw the painting and had it removed. The reason: that it defamed the American sailor. The national press jumped onto the controversy with a vengeance that resulted in Cadmus' overnight fame as American art's enfant terrible.
Time Magazine reported that to "Secretary of the Navy Swanson [the painting] represents a most disgraceful, sordid, disreputable, drunken brawl, wherein apparently a number of enlisted men are consorting with a party of streetwalkers and denizens of the red-light district. This is an unwarranted insult…and evidently originated in the sordid, depraved imagination of someone who has no conception of actual conditions in our service."
Cadmus noted: "I owe the start of my career really to the Admiral who tried to suppress it." Following the publicity Cadmus was commissioned by the Treasury Relief Art Project to paint murals for the Port Washington Post Office and in 1937 received his first one-man show at Midtown Galleries. He would show there for the rest of his life.