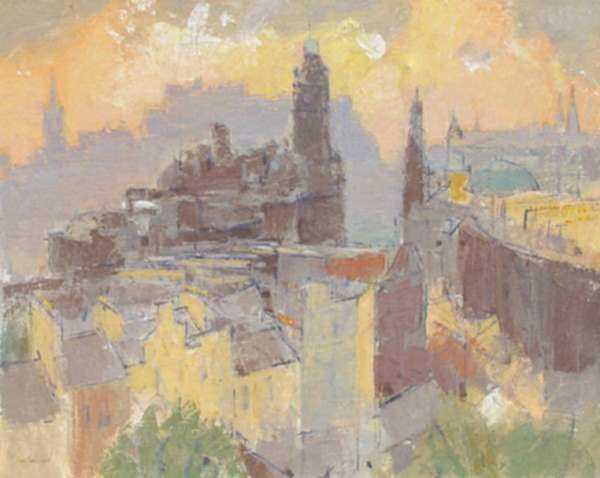 Paul Parker
American (1905-1987)
Born in LaGrange, IL, 1905, Paul Parker was a multifaceted man of the arts: art historian, advertising art director, painter in oil and watercolor, museum director (Colorado Springs Fine Arts Center and at The Des Moines Art Center) and professional jazz pianist. His painting career was begun with studies at the Art Institute of Chicago and the American Academy of Art (where he taught drawing from 1927-31). A few years later he became Professor of Art at Hamilton College (1948 until his retirement in 1970).
Group exhibitions include:
• Art Institute of Chicago (Chicago Artist and American Annual)
• Colorado Springs Association
• Carnegie International
• New York World's Fair
• Kansas City Art Institute
• Walker Art Center, Philbrook Art Center
• Munson-Williams-Proctor Institute (where he is represented in its permanent collection).
He also exhibited at Colgate University, Root Art Center, Bristol Center, Kirkland Art Center, Utica College, Mohawk Valley Community College, Newport, RI Art Association, Dobbs Ferry Public Library.
Parker played piano in dance orchestras in Chicago in the 1920s and early 1930s. In 1931-32 he did commercial art and sales promotion for the Outdoor Advertising Association of America. In 1933-36 he was advertising manager of the Free and New Home Sewing Machine Co., Rockford, IL.
After his retirement, he painted watercolors in Charleston (twice), Cape May, La Jolla, Key West, Savannah, Mexico (three times), Portugal (twice), Italy, Sicily, and the Canary Islands, Madeira and England.