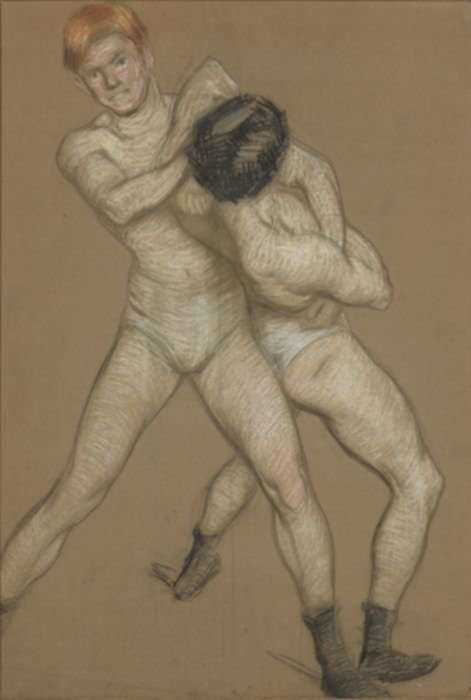 Philip Leslie Hale
American (1865-1931)
Philip Leslie Hale was the fifth of nine children born to Edward Everett Hale and his wife Emily. His siblings included painter Ellen Day Hale and architect Herbert Dudley Hale. After Roxbury Latin School, Hale's father insisted that he pass the Harvard entrance examinations before he could begin art training. He studied at the Museum School in 1883, then at the New York Art Students' League with J. Alden Weir, and finally in Paris at the Académie Julian and the Ecole des Beaux Arts; he then visited Spain to see the works of Velázquez before returning to New York. After exhibiting his work in Boston (at the Art Club), Philadelphia (Pennsylvania Academy), New York (society of American Artists, National Academy of Design), and Chicago (Art Institute), Hale went again to France in the fall of 1890. In 1891 he traveled to England and the following year settled in Boston, becoming an instructor of antique drawing at the Museum School in 1893. About the same time, he began to spend his summers in Giverny (France), with his friend Theodore Butler, Monet's son-in-law, and began a demanding exhibition schedule that he would maintain throughout his career. In 1898 Hale taught summer classes in Matunuck, Rhode Island, offering instruction at six dollars a week tin his own high-keyed style: "Students are advised to bring… plenty of chrome yellow no. 1. It is well to anticipate the yellow fever." The following year he exhibited twenty-eight paintings and seven pastels at Durand-Ruel Galleries in New York, the major dealers of Impressionist painting in both France and America. The pictures were mainly the results of his Rhode Island summers' work—critics gave mixed reviews, finding the post-impressionist color and dissolution of form bold and rather extreme.
Philip Hale's reputation would come to rest more upon his merits as a teacher than upon his own painting. Aside from instruction in antique and life drawing and artistic anatomy at the Museum School (1893-1931), he taught art history classes at Boston University, lectured at the Boston and the Metropolitan museums, gave studio classes at the Pennsylvania Academy (1913-1928), and wrote critical reviews for local papers. In 1913 he published the first American text on Vermeer, a lengthy study on the life and work of an artist much admired by Boston painters. That same year Hale exhibited two pictures in the Armory show. He won many prizes and awards, continuing to show his works nationwide, and served on the jury of the Panama-Pacific Exposition in 1915. He remained an active figure on the Boston art scene throughout the 1920s.
From The Bostonians: Painters of an Elegant Age, 1870-1930, by Trevor J. Fairbrother (Museum of Fine Arts, Boston).
Works by Philip Leslie Hale