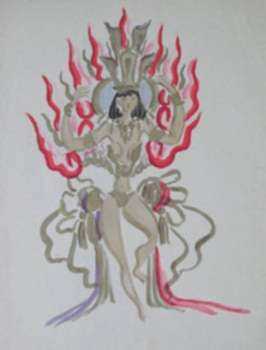 Raoul Henri Pène Du Bois
(1912-1985)
Raoul Henri Pène Du Bois, American (1912-1985)
Raoul Pène Du Bois was born on Staten Island, New York, the son of the banker René Pène Du Bois. Raoul was also the nephew of the painter, Guy Pène Du Bois ((1884-1958), and grandson of the writer, music and art critic for Hearst publications, Henri Pène Du Bois (1859-1906).
Costume designer, set director, and occasional art director Raoul Pene Du Bois began his long career at age 14, when he did four showgirl costumes for the Ziegfield Follies. He later was the designer for all of the costumes for the 1934 and 1936 Ziegfield Follies. At age 16 he designed his first Broadway musical Garrick Gaities and continued designing the costumes for musical revues and Broadway shows including works by Rodgers and Hart, Billy Rose, Leonard Bernstein, and Oscar Hammerstein. He worked on a number of big shows including The Music Man, Carmen Jones, Call Me Madame, One For the Money, Life Begins at 8:40, Two for the Show, Too Many Girls, and Kurt Weill's Firebrand of Florence. Between 1939 and 1940, he designed Billy Rose's Aquacade for the New York World's Fair. He went on to design for ballets, ice shows, and other extravaganzas. Du Bois also designed costumes for the Rockettes.
He designed both the sets and costumes for Du Barry was a Lady, Panama Hattie, Lend an Ear, Alive and Kicking, New Faces of 1952, Plain and Fancy, Bells are Ringing, and Irene. Du Bois was nominated for and won a Tony Award in 1953 as scenic designer for Wonderful Town; nominated again in 1960 and 1964 for Gypsy and The Student Gypsy; was again a Tony Award winner in 1971 as costume designer for No, No Nanette, and nominated two more times, 1975 and 1980 as costume designer for Dr. Jazz and Sugar Babies. Walter Kerr, critic for the New York Times, described the visual impact of No, No Nanette as "an explosion of Halloween colors, whorls and zigzags, forever putting psychedelic to shame."
Films he worked on include sets and costumes for Kitty, Frenchman's Creek, Lousiana Purchase, and Lady in the Dark—the latter two earning him Oscar nominations for Best Art Director (color) in 1941 and 1944.
Raoul Pène Du Bois died at age 72 on New Year's Day 1985 in Manhattan.