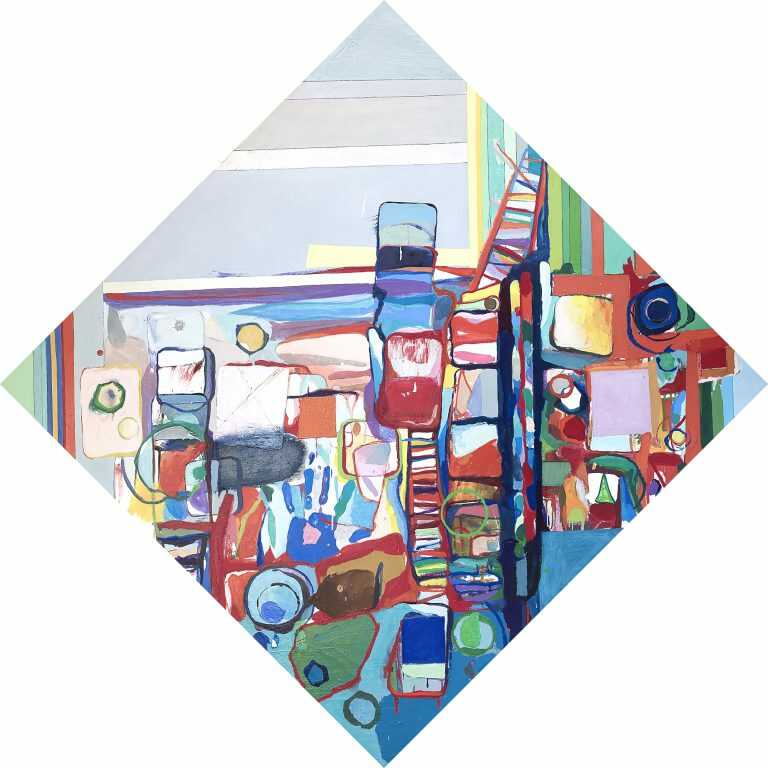 Robert S. Neuman
American (1926-2015)
As a youth, in the small western mining town of Kellogg, Idaho, Robert S. Neuman made his initial attempts in oil painting using house painters oil colors from the shelves of his father's hardware store.
Neuman's deep interest in painting led him to study at the University of Idaho. Later, upon arrival in California, he was confronted by the "San Francisco School" (Ecole de Pacific). Neuman continued to develop at The California School of Fine Arts & Crafts and at The California School of Fine Arts in San Francisco. During those seven years (1947- 1953), he was associated with such artists as James Budd, Dixon Nathan Oliviera, Peter Voulkos, Edith Smith, and Kenneth Nack. His oil paintings, watercolors, drawings, and lithographs were exhibited in many juried exhibitions that also included works by: Wayne Thiebaud, David Park, Richard Diebenkorn, Clifford Still, Edith Smith, James Weeks, Corbett, Bischoff, and other important West Coast painters.
While studying at Mills College, Oakland, CA, Neuman felt most fortunate to be exposed to the teaching Max Beckman. Neuman greatly respected the work of Beckman; he also sensed an affinity between certain German Expressionists and Abstract Expressionist in the United States. The "San Francisco School" was the dominant force in the Bay area and became a formative influence in the development of Neuman's paintings. These qualities are present in his canvasses today by broad surface treatments, calligraphic drawings, energized expression and certain influences from Oriental Art.
In the year 1953, Neuman was awarded a Fulbright Grant for painting. The grant brought Neuman to Stuttgart, Germany, allowing him his first contact with his contemporaries in Europe. In Stuttgart, he became aware of post-war German art and studied with renowned artist Willi Baumeister. Neuman has also indicated a strong admiration of Fritz Winter's paintings. At this time Winter was actively investigating organic colors and a "sign language" in his canvases. It is reasonable to assume that the very forceful "Black Paintings" (1953- 1956) of Robert S. Neuman were influenced by Fritz Winter's techniques. The First exhibition of Black Paintings was presented in Barcelona, at Sala Vayreda, and subsequently at the Swetzoff Gallery, Boston in 1957. The entire group of "Black Paintings" is now in Private collections.
While in Barcelona, Neuman experienced the different conditions under which the contemporary Spanish artist functioned compared to American. He found the open and seemingly unformalistic attitudes of the West Coast artists contrasting severely with the deeply felt mysticism present in much of the contemporary Spanish artists of that time. A very large and impressive "Pedazo del Mundo, Number 36," which was painted at this time is now in the permanent collection of the Worchester Art Museum, MA. The oeuvre of Robert S. Neuman illustrates the "mix" of exposure to West Coast values in painting and the contrasting contemporary European attitudes. Combining these two separate elements produce paintings of dramatic universality.
The "mix" is once again used in the Neuman's more recent series "Lame Deer." This series was conceived during a visit, by Neuman, to the village of Lame Deer, MO. The village's history namesake was Lame Deer, a mystic and medicine man of the Northern Cheyenne people. Neuman's western heritage is present in the Lame Deer Paintings. Although these canvases are essentially abstract in quality, they seem to echo the strange and unusual landscapes that Neuman recalls from his childhood. Once again Neuman's paintings present a concern for abstract visual symbols as an expressive force within the composition.
Appearing as graphic and chromatic symbols, Neuman's approach to painting creates a duality between visual and literal associations. The Boston art critic, Robert Taylor remarked (Boston Globe, March 25, 1979): "Neuman's pictures fuse the methods of color field paintings, emblematic abstractions and expressionist responses and, at their best as in this series are evocative and original."
Neuman's work is in the collections of Boston Public Library, Boston, Massachusetts; Carnegie Museum of Art, Pittsburgh, Pennsylvania; Currier Museum of Art, Manchester, New Hampshire; Davis Museum and Cultural Center, Wellesley College, Wellesley, Massachusetts; DeCordova Museum and Sculpture Park, Lincoln, Massachusetts; Farnsworth Art Museum, Rockland, Maine; List Visual Arts Center, Massachusetts Institute of Technology, Cambridge, Massachusetts; Fogg Art Museum, Harvard University, Cambridge, Massachusetts; Hood Museum of Art, Dartmouth College, Hanover, New Hampshire; Library of Congress, Washington, District of Columbia; Museum of Fine Arts, Boston, Massachusetts; Museum of Modern Art, New York, New York; National Library of Australia, Canberra, Australia; New York Public Library, New York, New York' Rose Art Museum, Brandeis University, Waltham, Massachusetts; San Francisco Museum of Modern Art, San Francisco, California; William Lane Collection, Lunenburg, Massachusetts; Worcester Art Museum, Worcester, Massachusetts, and many others.
-Christina Neuman Godfrey, daughter of Robert S. Neuman