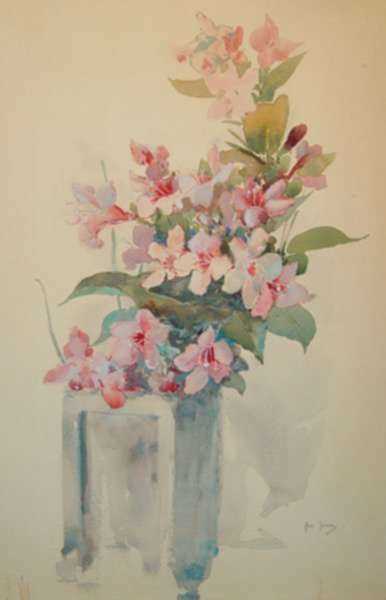 Ross Sterling Turner
American (1847-1915)
Ross Sterling Turner was born in 1847 in Westport, New York. In 1862, his family moved to Alexandria, Virginia. His first job was as a mechanical draftsman, working for a time in the U.S. Patent Office in Washington, D.C. In 1876, he went to Europe, first to Paris and then to study at the Munich Academy, where he met fellow Americans William Merritt Chase and Frank Duveneck. Like them, Turner developed a thick, painterly style. He became close friends with Constantin Bolonachi, a Greek painter whose marine subject matter would influence Turner's work. About 1879, Turner traveled to Florence, Rome and Venice to study the Old Masters, and in Italy his work became increasingly concerned with the effects of light and color.
In 1883, Turner returned to America and settled in Boston, exhibiting his watercolors and oils at the Boston Art Club and annually at Doll and Richards on Newbury Street. He entered the intimate circle of Childe Hassam and the artistic community surrounding Celia Thaxter at Appledore, where he painted gardens in short, quick, colorful strokes that are similar to Hassam's style. Upon his marriage to Louise Blaney (artist Dwight Blaney's oldest sister) in 1885, he moved to Salem, but maintained a Boston studio for private lessons. Teaching formed a large part of Turner's career, both in person and through books such as his "Use of Water Color for Beginners," published by Louis Prang and Company in 1886. He was an instructor in the architecture department at the Massachusetts Institute of Technology (1884-85, 1886-1914) and in 1909, he began to teach at the Massachusetts Normal Art School.
Turner frequently traveled in search of new subject matter; his talents as a colorist and his love of the sea took him to Mexico, the Caribbean, and Venice. He died in Nassau, the Bahamas, where he had gone for health reasons. A memorial exhibition was held at the Guild of Boston Artists in 1915.
Turner's work is represented in many fine public and private collections including the Boston Museum of Fine Arts, Boston Public Library, Fogg Museum at Harvard University, National Museum of American Art, Worcester Museum of Art, Peabody Museum of Salem, and Denver Art Museum. In recent years, Turner's work has been well represented in several major traveling museums exhibitions including "The Bostonians: Painters of an Elegant Age, 1870-1930" and "Awash in Color; Homer, Sargent and the Great American Watercolor."
Works by Ross Sterling Turner