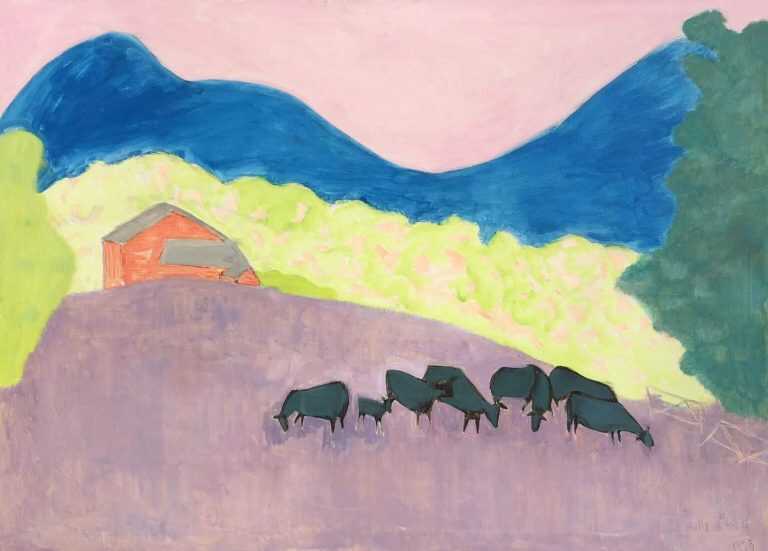 Sally Michel
American (1902-2003)
Sally Michel was born in 1902. She studied at the Art Students League and spent summers painting in Gloucester, MA, where she met Milton Avery. Milton followed Sally from Gloucester to New York where they married in 1926. Sally illustrated for many publications and acted as the primary financial supporter for her family until the 1950's when Milton's works started selling.
The Avery family spent most summer vacations traveling, which allowed Michel more time to paint. Their vacation spots included much of New England, California, Canada, Mexico, Europe, and even Woodstock. From these places Sally painted many landscapes, seascapes, portraits, animals, and still lives. During these vacations and later when Sally had more time to paint, she and Milton shared studio space and acted as critics and collaborators for one another. Their styles changed and moved together, resulting in the "Avery style."
Although both the Averys were committed to the same goal of painting familiar surroundings in a modern style, Sally's art was somewhat different than Milton's. She never painted for a market but rather painted for herself. Even after Milton's death in 1965, Sally still saw his art as the art for the public and remained quite mysterious about her own work. Her works can be found in the permanent collections of the Corcoran Gallery, Washington, D.C.; Wadsworth Atheneum, Hartford, Connecticut; Housatonic Community College Museum of Art, Bridgeport, Connecticut; University of Iowa Museum of Art, Iowa City, Iowa; Holyoke Museum; the University of Iowa, Grinnell College and in many fine private collections. Sally Michel drew little attention to her art as a masterful oeuvre. Rather, she stuck to her goal of simply capturing the charm and delightfulness of the daily life that surrounded her. Sally Michel died on January 9, 2003.
From "Women's Art Journal"
Sally Michel and Milton Avery met in Gloucester in 1924. He followed her to New York, and two years later they married. For the next forty years, until Milton's death in 1965, the couple worked side by side, often sharing the same studio space.
Although painting was the core and center of their lives and Sally always painted whenever she could, she was the breadwinner and, during the 1930's, the mother of a young daughter. This allowed Milton to paint full-time; it was his work that was intended for the art market. She rarely showed during these years and worked mostly on paper and on a small scale.
Over the years, the Averys evolved a lyrical, collaborative style that developed from the notion of making modern art out of familiar surroundings; and, in fact, they consistently painted each other, their daughter March, their friends, their home, and the places where they vacationed. This mural style absorbed a number of American ingredients: the naive, caricatured, slightly awkward charm of folk art; the harmonious and refined intimacy of turn-of-the-century Tonalism; the democratic ebullience of the Ash Can School. If one adds to these the grace and gaiety of Fauvism and the joyous, intensely saturated, yet quietly arbitrary color of Matisse, there emerges a thoroughly delightful "American folk art version of Parisian Modernism".*
The Averys, seemingly untouched by the many art movements that developed over the years, pursued their own style with its graphic "signs" and simplified forms (the figures are often faceless); its flattened blending of foreground and background; its unusual, even whimsical combinations of color; and, most of all, its warmth and intimacy and gentle humor. Their vision remained intact, and ultimately found recognition.
Since Milton's death, Sally Michel has continued to paint steadily. While much of her time and energy has been devoted to building and assuring Milton's reputation, she has recently consented to wider exhibition of her own work, which has been very well received.
*Robert Hobbs, "Sally Michel: The Other Avery" Woman's Art Journal, Fall 1987/Winter 1988.