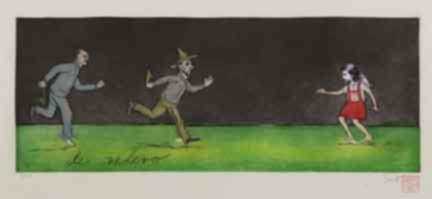 Sandra Ramos
Cuban (b. 1969)
Sandra Ramos lives and works in Havana, Cuba and is one of the country's best known contemporary artists. Through a compelling visual dialogue, Ramos has gained an international reputation by expressing her personal relationship with political and social realities in the face of the idealized utopian Cuban state that is the official party-line.1 Ramos studied at the prestigious San Alejandro Art Academy in Havana and later the Superior Institute of Art, also in Havana.
She has exhibited and curated several exhibitions in several Havana Biennales, starting with the third Biennale in 1989, but it was in 1993 that her work began to get noticed by international curators and dealers. It was in that year that Ramos won the grand prize in the National Printmakers Salon in Havana and she was invited to exhibit at the First International Printmakers Biennial in Maastricht, Holland and the International Printmakers Triennial at the Alvar Aalto Museum in Finland.
Ramos uses familiar characters from literature, history, and folk-lore to make political and social statements and to build context within her work. One such character is a self-portrait that has appropriated the dress of Alice in Wonderland and alternately a red-uniformed pioneer girl. 1 By remaking her own image into that of Alice, Ramos pointedly comments on the surrealistic aspect of every-day life in Cuba.
Ramos also uses the national Cuban characters, Liborio (a Cuban peasant wearing a straw hat, a characterized 'everyman') and El Bobo ('The Fool" a satirical character originally created to comment on the difficult social and political situation in Cuba under Machado). She has reincarnated these familiar characters to comment on themes of, in the artist's own words, "the current power structure, manipulation of history and information, control of the individual and his identity, migrations, breakdown of the Revolution's values and relationship man-nature-society." 1
She has exhibited extensively for over twenty years at venues which include Museo Bellas Artes, Havana, Cuba; Museo de Arte Moderno de Medellín, Colombia; Thyssen-Bornemisza Art Contemporary, Vienna, Austria; Sheldon Museum of Art, Nebraska; Lyman Allyn Art Museum, New London, CT; Ringling Museum, Tampa, FL; Miura Museum of Art, Matsuyama, Japan and Urasoe Museum, Okinawa, Japan. Her work is included in the collections of the Museum of Modern Art, NY; The Museum of Fine Arts, Boston; and Fuchu Art Museum, Tokyo, Japan, among many others world-wide. Ramos is teacher at The Higher Institute of Art in Havana, Cuba, and a curator since 1996 of Cuban contemporary art exhibitions. She has presented at conferences and workshops in international institutions including: National Gallery of Art in Washington DC; The University of Havana; L' Ecole deux Beaux Arts, Paris; Barbican Center in London; The School of the Museum of Fine Arts, Boston; Lowe Art Museum, Florida University, Miami and Fuchu Art Museum,Tokyo, Japan.
1. Fountainhead Residency, Sandra Ramos Mission Statement. http://fountainheadresidency.com/sandra_ramos.html
2. Nina Menocal Gallery. http://www.ninamenocal.com/?p=323