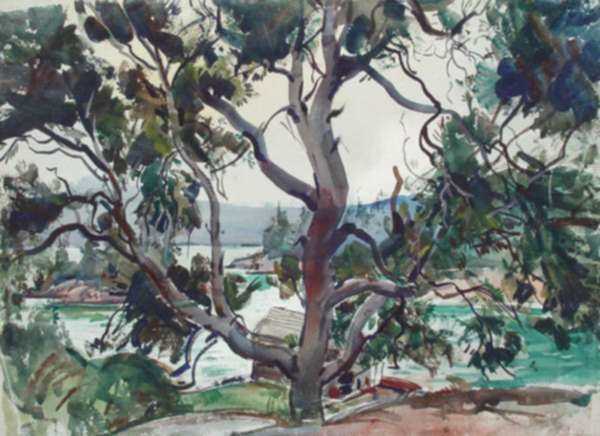 W. Lester Stevens
American (1888-1969)
Born on June 15, 1888 in Rockport, Massachusetts, Stevens showed his artistic talent at an early age, and first studied with Parker Perkins, a well-known Rockport marine painter. In 1906, the National Academy of Design showed a work by Stevens, and three years later he received a scholarship for study at the Museum School in Boston. During his European stay in the Army beginning in 1917, the artist continued painting and sketching. He impressed his commanding officers with his talent and, as a result, an extended stay was arranged for him during which time he could further study the work of the masters in the European museums.
Arriving home after the war, Stevens received an invitation from John Pepper, of the Boston Art Club, to do a one-man show. One of the paintings in the show was chosen for the Corcoran Gallery's annual exhibition of Oil Paintings by Contemporary American Artists. Stevens' works were accepted for a number of years, and it was said that he had earned "more honors for his work than any other living artist in the Northeast".
Stevens returned to Rockport and in 1921, along with fifty other artists including Aldro Hibbard and Anthony Thieme, founded the Rockport Art Association, which brought renown to the Rockport and Cape Ann area. In addition to teaching in Rockport during the summers, he also taught at Boston University and later at Princeton.
Stevens, continually in search of unspoiled nature, moved from Rockport to Springfield, then to Conway, Vinalhaven and finally to Grand Manan, Maine. Steven's love of nature has been aptly described in the records of the Rockport Art Association, "An Appreciation of W. Lester Stevens" (1971): "He painted nature in all her moods from the blistering hot sun to the freezing wet cold. Nature was his guide, intuition his master...Instinct alone beckoned him on. Painting was his ruling passion".