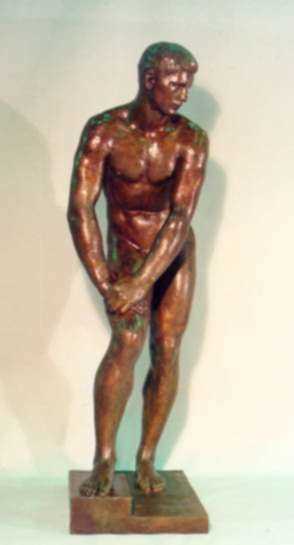 Walker Kirtland Hancock
American (1901-1998)
Hancock began his interest and passion for sculpture at an early age. Before he was 19, he won a scholarship to the Saint Louis School of Fine Arts where he studied with Victor Holm (1876-1935) and Edmund Henry Wuerpel (1866-1958), as well as attended the School of Fine Arts at Washington University and the University of Wisconsin. By 1919, Hancock had created four bronze memorials tablets for the Westminster Presbyterian Church, Saint Louis, and two schools in Saint Louis.
From 1921 to 1925, when Hancock won the Prix de Rome, he studied at the Pennsylvania Academy of the Fine Arts under Charles Grafly (1862-1929). Hancock did very well there; he won the Cresson Traveling Scholarship in 1922 and 1923, and the George D. Widener Memorial Gold Medal for his sculpture Toivo (1924), which he had entered in the academy's annual exhibition.
The Prix de Rome was a significant award, and provided Hancock the opportunity to study in Rome and be exposed to classical art. Hancock was strongly influenced by the experience and never lost his ties to the American Academy in Rome. He returned as a sculptor-in-residence at the academy in 1956-57 and again in 1962-63.
After his return to the United States, he replaced Grafly as the head of the sculpture department at the Pennsylvania Academy and won the academy's fellowship in 1932 for his sculpture Bird Charmer. Hancock also received the academy's gold medal of honor and was elected President of their Fellowship in 1952. He also taught at the Art Students League and at the National Academy of Design.
The majority of Hancock's work consists of public commissions from portrait statues to friezes on public buildings to war memorials. Most notable is his work at the 1939 New York World's Fair and his World War II memorials at the Thirtieth Street Railroad Station in Philadelphia (1948) and at the Lorraine American Cemetery in Saint Avold, France (1960). Installed in 1988, in the Great Hall of the Supreme Court Building in Washington, is his portrait in marble of Chief Justice Warren Burger. Hancock also worked on a bust of President George Bush, which was commissioned while Bush was President of the United States Senate.
Works by Walker Kirtland Hancock