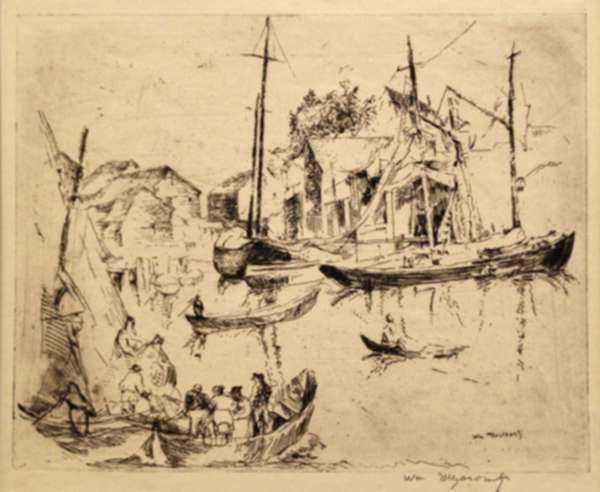 William Meyerowitz
Russian-American (1887-1981)
William Meyerowitz was born in Eksterinoslav, Ukraine in 1887 and arrived in the United States in 1908. His principal studies were at the National Academy of Design in New York between 1914 and 1918. Beginning in the 1910s be exhibited at the Art Institute of Chicago, Society of Independent Artists, the Pensylvania Academy of Fine Arts; by the 1920s he was exhibiting at the Whitney Studio Club-Whitney Museum, Salons of America, Corcoran Gallery Bi-ennials, and the Connecticut Academy of Fine Arts; in the 1930s he began showing at the North Shore Art Association, and the Worcester Museum of Art. From 1916 through 1987 he exhibited in nearly every important American painting and printmakers forum and took many prizes.
Meyerowitz was a member of many artists' societies including: The North Shore Art Association in Gloucester, Massachusetts where he was an honorary life member and served as vice-president from1968-69, the National Academy of Design, Salons of America, the Society of Independent Artists, and the Allied Artists of America (of which he was a director). His Gloucester work forms an important part of his total oeuvre and his works of the mid-1920s are among his bestHis work is represented in many museums including: Phillips Gallery, D.C.; Metropolitan Museum of Art; Brooklyn Museum; Museum of Fine Arts, Boston; National Museum of American Art, D. C.; Library of Congress, and the Bibliothèque National, Paris.
His wife, the painter Theresa Bernstein, was his principal biographer. They began summering in Gloucester, Massachusetts by 1925 and divided their studios and artistic life between Gloucester and New York City.