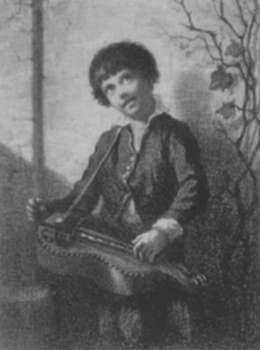 William Morris Hunt
American (1824-1879)
One of the most influential and respected artists in Boston during the late 19th century, William Morris Hunt was a leading proponent of the French Barbizon school of painting, the precursor of Impressionism. He was a landscape, genre, and portrait painter, a highly respected teacher, and widely read writer. His engaging personality combined with his talents to make him the leading arbiter of aesthetics in New England where he was one of the first artists to inject French influence.
Hunt was born in Brattleboro, Vermont and was raised in New Haven, Connecticut. He was from a prominent family that included his brother Richard Morris Hunt, the architect of the Vanderbilt houses "Biltmore" and "The Breakers." William had a lively personality and was considered a witty, non-conforming man who did not stay on the traditional path to academic success.
He attended Harvard University where he studied sculpture with Henry Kirke Brown, but weakened health caused him to leave after his sophomore year to study in Europe. In 1845, he enrolled in the Dusseldorf Academy but feeling weary of academic training went to Paris to study with Antoine-Louis Barye, the animal sculptor, and from 1846 to 1852 with academic and then Barbizon painter, Thomas Couture.
Again rebelling against the rigidity of academia, Hunt gravitated towards the French landscape painters, especially Jean-Francois Millet, who had fled studio painting for Barbizon, a French village. There they depicted rural scenes, usually with peasants, and focused on capturing the naturalness and spontaneity of what they at the time they saw it.
In 1855, Hunt returned to the United States, going first to Newport, Rhode Island and completed a number of sentimental Barbizon-style paintings with cows, obviously innocent children, and virginal-appearing nudes.
In 1862, he moved to Boston where he married the daughter of a wealthy Boston banker and, well-connected socially, much influenced Boston taste as the proponent of Barbizon style painting. Because fellow-Bostonian Seth Vose shared Hunt's appreciation for the Barbizon school, Hunt was a key promoter of Vose as an art dealer.
Hunt frequented rural coastal areas in Massachusetts and became especially associated with Cape Ann and Gloucester. His spontaneous paintings such as "Gloucester Harbor", dated 1877 and now in the Museum of Fine Arts in Boston, were rapidly executed in the manner of Impressionism, which was ground breaking for an American artist. However, he was set apart from his Impressionist successors by his careful attention to composition and execution, and his underlying less-emotional realism.
He also had mural commissions including the capital building at Albany, New York. In 1878, shortly after completing this work, Hunt drowned in circumstances that suggested suicide, something he may have done to relieve his suffering from ill health.
Source:
Matthew Baigell, "Dictionary of American Art"
Michael David Zellman, "300 Years of American Art"
Biography from the archives of AskArt.com
Works by William Morris Hunt