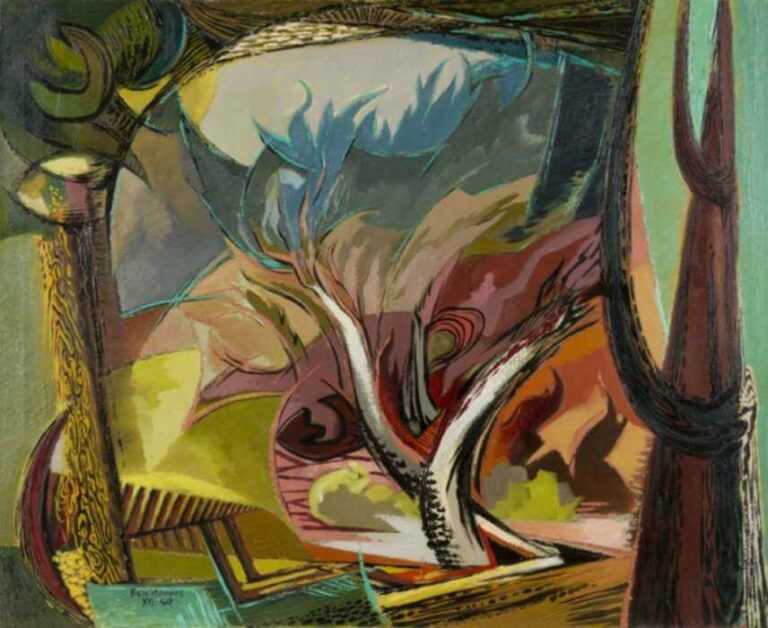 Ben Norris: Botanical Oasis
Press Release:
Ben Norris' vibrant landscapes teem with creeping vines, tropical flowers, and encroaching vegetation. His watercolors and paintings of tranquil gardens and lush rainforests transport the viewer to a leafy, verdant paradise. Inspired by a lifelong interest in botany and a "fascination with the riot of greens and shapes of plants in forest scenes," Ben Norris painted his natural surroundings throughout his life – from the Hawaiian Rainforest to the Brooklyn Botanic Garden.
Born in Redlands, California in 1910, Norris attended Pomona College. After graduating he won a fellowship to Harvard University and later studied at the Sorbonne in Paris. By 1936, Norris moved to Hawaii where he would spend the majority of his career.
Though earlier associated with the Southern California Watercolorists, Norris' time in Hawaii prompted changes in his artistic direction. As Chairman of the Art Department at the University of Hawaii, Norris invited distinguished artists including Max Ernest, Stanton McDonald-Wright, Jean Charlot, and Josef Albers as visiting professors or artists-in-residence. From these interactions Norris' work took on decidedly more modernist and surrealistic tones, as seen in Landscape Study II. Applying this new style to the Hawaiian scenery, the artist painted landscapes with sweeping forms and dynamic color that captured the wild beauty of the islands through the lens of abstraction. Norris noted that his works during this period "were increasingly becoming experiments in new ways of seeing and expressing art."
As a teacher, academic, and artist, Norris had an unquenchable thirst for knowledge and continued to master new stylistic methods throughout his career. After retiring to New York in the 1970s, Norris turned to large scale watercolors as the preferred medium for his verdant scenes. Periodically returning to Hawaii for inspiration, the artist photographed the islands' lush vegetation, particularly that of the Manoa Valley. Upon taking the images back to his stateside studio, Norris used hyperrealism to capture the forest flora in accurate color and light.
While in New York and surrounded by the bustle of the city, Norris found respite, and inspiration, in the Brooklyn Botanic Garden. In the 1990s, the artist began a series of large format watercolors depicting the various delights found in the Garden's urban oasis. Norris didn't limit his visits to the green seasons, but rather found enjoyment there throughout the year: "I especially loved the greenhouses in winter, the Japanese garden in spring, and the cool in the shade of the plane trees in summer."
Through the different stylistic variations of his long career - modern, abstract, realist, and everything in between - Ben Norris' love and appreciation of nature is apparent. No matter the decade, style, or media of his work, the artist has taken care to visually express the feeling and ambiance of the outdoors, successfully transporting his audience around the world to rainforests, valleys, gardens, and beyond. One can enjoy the breeze, feel the heat, and smell the flowers in Norris' botanical worlds.
On exhibit until August 31st, 2018