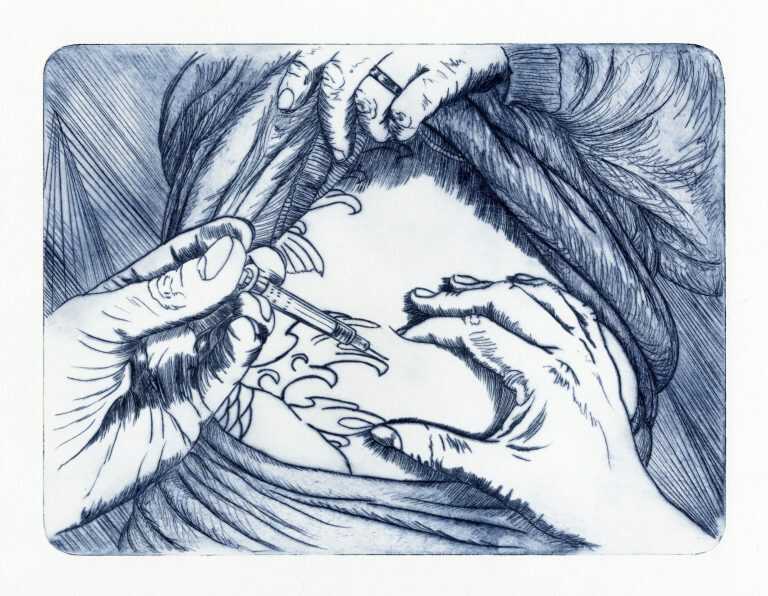 Emily Lombardo: Soft Butch Blues
Press Release:
E. Lombardo's new series of works, Soft Butch Blues, explores the artist and her wife's journey to parenthood. The series of fourteen drypoint prints documents the intimate process from trigger shots to birth to acclimating as a family of three. Addressing reproductive rights, body autonomy, fear, anxiety, and more, Soft Butch Blues navigates difficult subjects with joy, warmth, and refreshing frankness.
Lombardo's new prints are an autobiographical resistance against society's tendency towards lesbian erasure. They record both the extraordinary and mundane events associated with birth and parenthood through a lesbian-centric lens, capturing a unique yet familiar perspective on family. Executed in fine intricate colorful lines on varied papers, the prints in Soft Butch Blues display the exuberance, worry, and fragility of the family's experience.
Lombardo and her wife's identities as working-class queer women in New York City are central to how their distinct yet recognizable narrative unfolds. Trigger intimately records an integral part of the IUI process, with a closeup image of Lombardo giving a hormone injection to her wife. Tests to Stay addresses the anxieties of trying to conceive during Covid – an ovulation test is seen amongst rapid tests and various objects symbolizing fertility, courage, and extinction. Later prints document Lombardo's wife's changing body and the physical and mental toll of pregnancy upon her person. 9:54 PM celebrates the much-awaited arrival of their daughter.
The completion of the Soft Butch Blues series and its exhibition at Childs Gallery comes at a tumultuous time within the United States, as the country sees the potential unfolding of a dangerous reversal in equality and human rights. In this environment, the amplification of queer narratives is crucial.
Lombardo says of her current project: "As the Supreme Court is considering reversing Roe vs. Wade, this work is about motherhood, the most complex choice a person can make about their body. More than a dozen states are legislating 'Don't Say Gay' bills which threaten the rights of LGBTQ+ adults, children, and families to discuss their lived experience openly just as any heteronormative person can. Soft Butch Blues is a story of enduring love and blind faith as everything seems to be teetering on the edge." Soft Butch Blues is on view in Childs Gallery's Print Department, June 2 through July 30, 2022. An opening reception with the artist will be held Sunday, June 5, 2-4pm.
On exhibit until July 30th, 2022