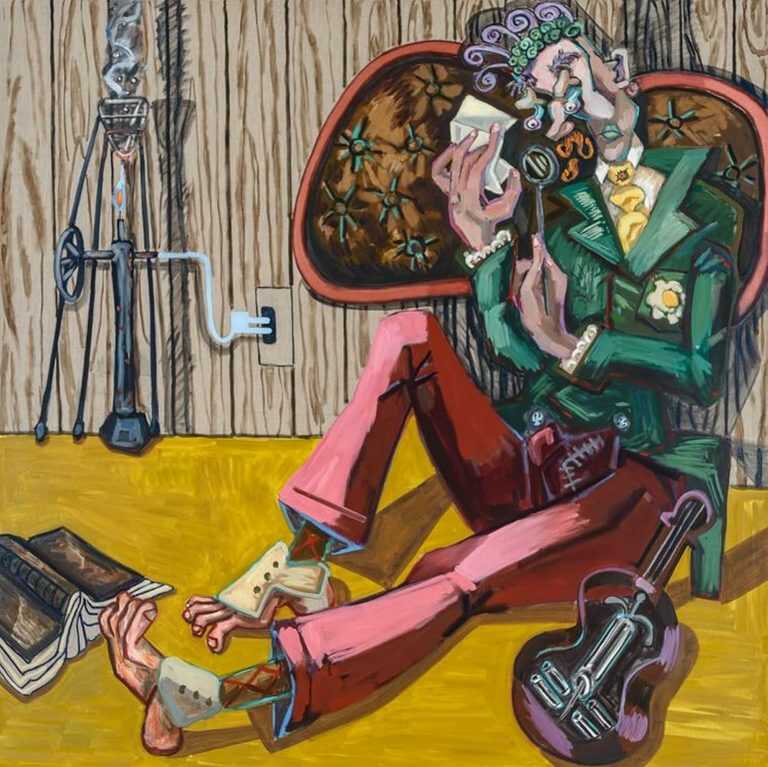 Hannah Barrett: Transitions
Press Release:
Hannah Barrett: Transitions is a retrospective mélange of works from the artist's various series – from Secret Society to Monsters – that traces Barrett's development as she progresses from collage to imagination as the source of her portraiture.
Barrett has previously described her paintings as "invented portraits based on collage: copies of photos or in some cases, copies of paintings are cut apart and reassembled into figures of ambiguous gender. Fusing the features of both sexes creates a range of androgynous characters that may be straight, queer, hermaphroditic or just cross-dressing." Her aim is to create portraiture that deviates from the conventional male or female, and to explore the resulting pictorial and conceptual possibilities in a fun and unexpected way.
In her latest series Monsters, Barrett has created creatures that are fully of her own imagination, with no singular reference to reality. In this way her Monsters are entirely fictional, and the viewer can project their own character onto the portraits.
The progression of Barrett's artwork reflects how gender expectations have changed since she began painting her first series, Secret Society, in 2006. In her early portraiture, Barrett felt an urgency to make gender fluidity more visible. Creating portraits from collaged elements of photographs and paintings thus tied her ambiguous characters to reality, making them more of-this-world than an entirely imaginary figure.
Barrett's transition in source material has happened alongside a cultural shift in gender perception. A broader awareness of gender as a construct and an expansion of vocabulary for gender have thus been a driving force in her new work. The visibility of trans culture and other LGBTQ identities prompted a move away from collaged figures, as Barrett became more invested in completely made-up worlds, accessible directly by drawing. Where her paintings previously began by making collage prototypes, she now works from line drawings made in sketchbooks. Her new characters, still playfully androgynous, non-binary, or anthropomorphic, come together through a process like automatic drawing, wherein Barrett selects heads, costumes, and settings from references studied over the past twenty years.
Transitions observes this artistic shift in Barrett's work from reality-adjacent to entirely-imaginary through a rousing journey within her amusingly eclectic world. Her artistic progression is inextricably tied larger cultural shifts and proves a humorous proxy to a more serious conversation about gender identity. Drawing from her numerous series including Secret Society, Family Jewels, Tales of the House of Gibson, Hunters' Picnic, Rustics, Detectives, Fire Island, and Monsters, Transitions presents Barrett's boldly absurd works as a viewable timeline of both artistic and societal progression. Her pastiched characters, whether collaged from bits and pieces or drawn from pure imagination, make for perplexingly charming guides throughout this retrospective.
On exhibit until March 8th, 2020