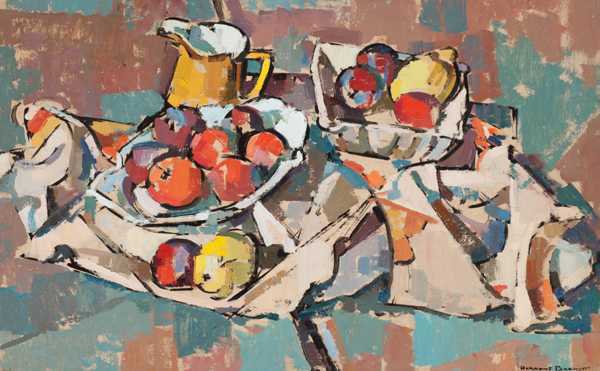 Herbert Barnett and the Cubist Still Life
Press Release:
Herbert Barnett was an American artist whose life and work was closely tied to New England, and yet, his distinctive style of painting drew heavily upon the artistic innovations of Cubism. Though portraits, landscapes, and genre scenes are all among the artist's oeuvre, still lifes were a thematic constant throughout Barnett's career, providing an endless study of Cubist forms and angles. This exhibition is a survey of the artist's continual exploration of the still life over a 30 year period.
Born in Cranston, Rhode Island, Barnett grew up in Providence.  While still in high school, he began to study painting at the Rhode Island School of Design.  From 1927-31, he studied at the Boston Museum School and soon acquired a reputation for technical proficiency.  At seventeen, he had his first one-man show at the Grace Horne Gallery in Boston and was already teaching private classes.  After art school, where he won the Paige Travelling Fellowship, Barnett spent three years traveling and studying in Europe.  As he assimilated what he had learned in Europe and absorbed the influence of the older generations of American painters, notably Marsden Hartley, Walt Kuhn, and Edward Hopper, Barnett's style evolved rapidly, and by 1939, his painting possessed characteristics that would remain relatively constant in his further development.
Barnett's working method is best exemplified by his still life paintings which frequently feature fruit, bottles, and other everyday objects balanced on tilted, topsy-turvy tabletops.  He began each work by quickly drawing with the brush to capture the basic contours of his subject.  Next, he made a tonal underpainting in oil wash to indicate the most prominent volumes as areas of light and shadow.  The painted surface consists of a pattern of discreet, rectangular brushstrokes.  Barnett's emphasis on structure clearly reflects his admiration for Cezanne and the Cubists.
Driftwood, bones, seashells, and art materials are among the subjects that feature in Barnett's still life paintings. Such items allowed Barnett to explore planarity and rhythm in untraditional objects. His Cubist manipulation of the still life afforded experimentation in composition, creating bold and expressive paintings with inventive takes on form and perspective.
Awarded several distinguished positions at prestigious museum schools and honored with exhibitions around the country, Barnett was widely regarded as a painter of extraordinary ability and a virtuoso draftsman. Herbert Barnett and the Cubist Still Life focuses on one genre within the artist's long, respected career through which both his technical skill and Cubist sensibilities are evident to dramatic and striking effect.
On exhibit until January 5th, 2020