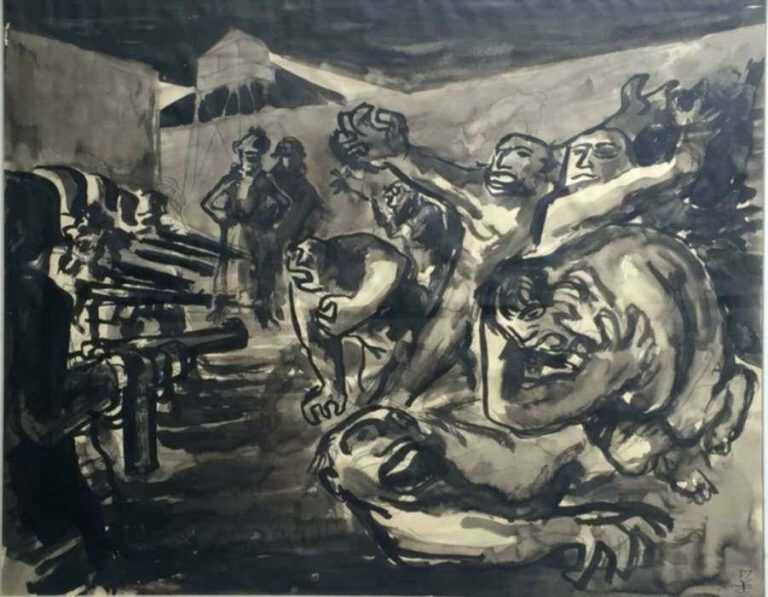 Jacek von Henneberg: Eyewitness to History
Press Release:
Jacek von Henneberg
Eyewitness to History
June 1 – June 30, 2017
Opening Reception: Sunday, June 4, 12 – 2 PM
On view at Childs Gallery from June 1 to June 30, 2017, Jacek von Henneberg: Eyewitness to History offers a glimpse of the events and atrocities of World War II from the unique perspective of Jacek von Henneberg (1926-2015), an artist who survived them. Born in Berdowicze, Poland in 1926, von Henneberg's life as a budding artist and architect was upended by the Nazi invasion of Poland and the outbreak of World War II. He joined the Polish Resistance against Nazi forces in the Warsaw Uprising of 1944, surviving a grenade attack as well as German POW camps. He managed to escape before the end of the war and joined the Polish II Corps of the 8th British Army in Italy, participating in the Liberation of Italy. Von Henneberg documented his wartime experience, filling notebooks with detailed sketches of Nazi and Soviet horrors.
Jacek von Henneberg: Eyewitness to History presents a selection of the artist's powerful drawings and sketches, comprising an intimate visual record of his experience. Please join the artist's family to celebrate the life and art of Jacek von Henneberg at the exhibition's opening reception on Sunday, June 4, 12 – 2 PM.
Artist Biography:
An accomplished artist and architect based in Cambridge, MA, Jacek von Henneberg (1926-2015) was one of three sons born to an aristocratic family in Berdowicze, Poland, in what is today Belarus. As a boy, he studied building design in Warsaw and dreamed of becoming an artist and architect, like his father. His life was upended by the advent of World War II and the Nazi invasion of Poland. Along with his two brothers, he joined the Polish Resistance, and fought with valor in the Warsaw Uprising of 1944 as a member of the Polish Home Army. He was captured and held in German POW camps, but upon escaping, joined the Polish II Corps of the 8th British Army taking part in the Liberation of Italy. At war's end, Jacek resumed his architectural studies at the University of Rome and the Polish University College in London. In 1950, he came to Cambridge as a recipient of the prestigious Wheelwright Prize fellowship at Harvard's Graduate School of Design, where he became a protégé of architect Walter Gropius.
After graduating in 1951, Jacek worked for several prominent local architects before establishing his own firm, Henneberg and Henneberg Architects and City Planners, with his surviving brother Witold. Over the course of 30 years, the two Hennebergs designed churches, schools, hospitals, libraries, hotels and housing throughout New England, winning awards for their innovative, functional and elegant work.
Jacek made Cambridge his home for 65 years, where he was a beloved friend to scores of fellow cosmopolitan artists and architects. He was an avid traveler who scoured Europe, Asia, and the Americas. He never went anywhere without his sketchbook, pens and watercolors, and regularly showed his work in Boston-area galleries. He was especially adept at making dramatic architectural renderings, conveying the shadowy details and grand vistas of cities from Venice to New Delhi. A lifelong student of the human form, he was also a keen portraitist, and a witty and irreverent illustrator.
Jacek's artistic range and output were impressive: it was not enough for him to paint murals, frescos and stage sets. He took to fashion design, cartooning, and calligraphy, at one point supporting himself by penning diplomas for Harvard College. With local friends, he co-founded an absurdist polyglot theater and publishing house by the name of Alpha-Bête, for which he served as artist-at-large. His letters, envelopes and even his shopping lists were themselves works of art, worthy of a Medici court. Indeed, Jacek was intrigued by just about every kind of surface or material, eagerly painting or decorating eggs, stones, cigar boxes, books, toys, furniture, appliances, stationery, fabrics, clothes and faces -- all in a bold style that reflected his own vivacious, Cyrano-esque personality.
In later years, Jacek's art circled back to reflect on the tragedies of his wartime experience. Many of his drawings conveyed a sense of solitude and absurdity, echoing the work of Georg Grosz, Saul Steinberg and Maurice Sendak. Indeed, Jacek filled many notebooks with detailed sketches of Nazi and Soviet horrors. But his work was also joyous and fantastical. In it, he celebrated the wonders of childhood, the athleticism of animals, and the sinuousness of the female form. Mischievous angels and randy satyrs perched atop his castles; children piloted hot-air balloons; and breast-like Tuscan landscapes lay heaving under full moons. Life was rich and beautiful, and his drawings said so.
Whatever its subject, Jacek's work was and remains instantly recognizable. It is not only his masterful lines that stand out in every piece. It is the feeling of the work. Jacek's art combines dark and light, grief and whimsy, pathos and panache. It embodies what writer Milan Kundera called "the unbearable lightness of being" in every confident stroke. This spirit lives on in his work, a testament to his resilience as an artist and a survivor.
Biography by the artist's niece, Krystyna von Henneberg.
About Childs Gallery:
Established in 1937 on Newbury Street in Boston's Back Bay, Childs Gallery holds one of the largest inventories of oil paintings, drawings, watercolors, prints and sculpture in the United States. We actively service collectors, artists, estates and corporate clients throughout the country in the buying and selling of fine art, and have placed exceptional works in major museums nationwide. Our extensive holdings – including prints and drawings that range from Old Masters to 20th century notables to 21st century contemporaries, along with superb paintings and sculpture from the past 200 years – are particularly appealing to the eclectic tastes of today's art lovers, as it's the collector's eye, not the historic period or medium, that makes for a cohesive and personally satisfying collection.
For high-res images and all press inquiries, please contact:
info@childsgallery.com
169 Newbury Street
On exhibit until June 30th, 2017