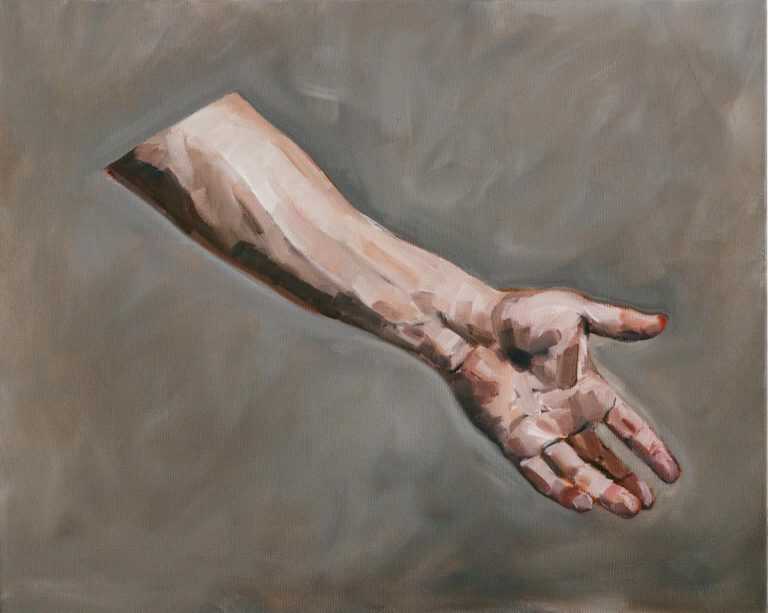 John MacConnell: Fragments
Press Release:
Fragments explores storytelling through the human form in both ancient and modern iterations, revealing fascinating commonalities between the two. Artist John MacConnell sketches and paints Classical sculptures alongside contemporary individuals, linking mythmaking in the Greco-Roman world with our current society.
Using sculptures from the sanctuary at Delphi and the Acropolis in Athens as reference, MacConnell poses his models in the contrapposto forms of Hellenic statues. The figures are then fragmented, as ancient sculptures often are after thousands of years, missing an arm, leg, or even head, as if time and use had worn them away.
Through the framework of these contemporary bodies juxtaposed with ancient sculptures, MacConnell examines the narratives we create about ourselves and others. Much as the stories we know about heroes and statesmen from antiquity are built from bits of information, our online personas are an amalgamation of pieces – curated selections from various social media accounts and dating profiles. MacConnell asks how the people of today will be remembered – what myths about us will develop from our fragmented digital footprint?
In this way, MacConnell's new work in Fragments continues his interest in capturing different aspects of our experiences with social media, both the positive and negative. In particular, MacConnell explores how online communities engender virtual safe spaces for queer people. Such associations are often places for individuals to connect with each other when safe physical space or distance is an issue. Using these online communities, the artist connects and collaborates with people to make his work. His previous series Instant Gratification, Pinch Zoom, Rapid Development, and Pictura in Pictura reference the visual language distinctive to social media and the online world, and address themes of connection, flattery, idolatry, and objectification.
Though inherent to a very modern medium, these ideas are paralleled in ancient statuary - Greek sculpture being particularly infamous for its insistence upon bodily perfection. The Classical period of Greek art developed an aesthetic based upon a set canon of proportions for the human form and the belief in the virtue of beauty – that one's outer looks are intrinsically tied to their inner morals. The Classical portrait thus displayed balance and harmony through idealization and the renouncement of realistic characterization, creating an aspirational visual tool for contemporaneous Greeks, and a representation of the body that continues to be influential to this day, with particular resonance in the gay community.
MacConnell's paintings of Greek art come from photos taken during a 2009 trip, and mostly present works as they appear in museum settings - long removed from their places of origin and context. His images of contemporary models similarly lack identifiable surroundings that would ground them to a specific time or place. The removal of narrative framework leaves much to speculation, urging the creation of stories to fill in the unknowns, to understand who or what is being considered. His fracturing of body parts - noses, ears, genitalia, and more – produce modern ex votos, pieced offerings functioning as representations of one's whole self.
The work in Fragments, from antique statuaries to MacConnell's beautifully drafted modern analogs, adeptly correlates this notion of fiction building across thousands of years. Our understanding of art, myth, and history from antiquity is the result of selective curation, and crafted piecemeal just as much as our social media profiles. As time moves on our online presences grow, weaving stories both of our own making and as yet to-be-determined by future generations.
After appearing in several group exhibitions, Fragments marks MacConnell's first solo show with Childs Gallery. Based in New York, MacConnell received his BFA from the Maryland Institute College of Art in Baltimore and his MFA from the School of Visual Arts in New York City. He has also studied at the Willem de Kooning Académie in Rotterdam.
John MacConnell: Fragments is on view May 18 through July 8, 2023. An opening reception with the artist will be held Friday, May 19, 6 to 8pm.
On exhibit until July 8th, 2023