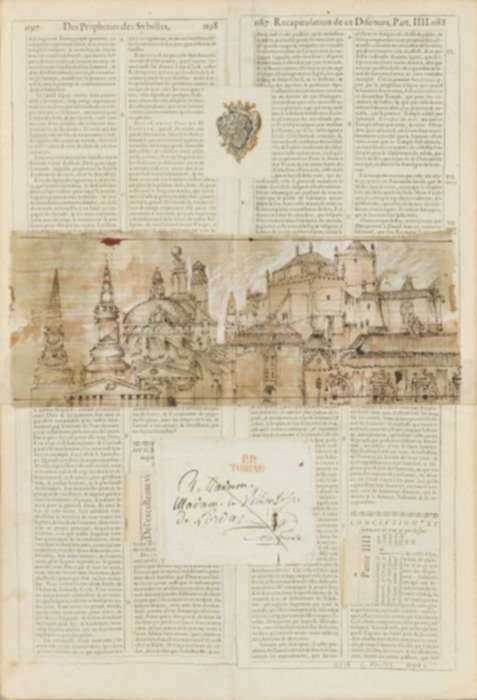 Laurent Hours: History Imagined
Press Release:
Laurent Hours' works blend fantasy and reality into captivating images of people, places, and things that feel pulled from history. The artist's small-scale mixed media works reveal a whimsical world of ancient cities, mysterious figures, and architectural wonders. Detailed drawings rendered in sepia ink resemble the virtuoso sketches of a great Renaissance mind. The use of handmade papers, handwritten notes, and antique stamps completes the effect, evoking an ancient past that belies the work's contemporary origins.
Laurent Hours was born in Paris in 1946. From a young age he was surrounded by classical art, having spent much time at the Louvre where his mother was a curator. His pieces can be found in many notable collections, such as the Musée National d'Art Moderne in Paris, the Musée des Beaux-Arts in Bordeaux, the Musée d'Art Moderne de la Ville de Paris, the Musée des Beaux-Arts, Saintes, and the French Embassy in Nairobi, Kenya. He has received numerous awards and distinctions for his artwork, including the Prix Delmas de l'Institut de France in 2007 and the Grand Prix international d'Art Contemporain de Monte Carlo Prix de ICOM (International Council of Museums) in 1980.
On exhibit until October 21st, 2018