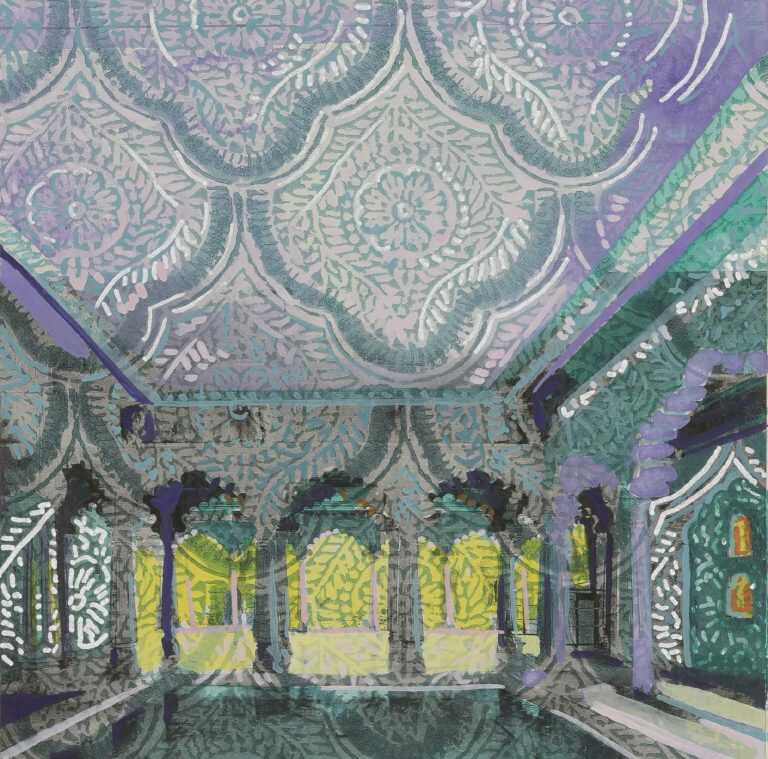 Lee Essex Doyle: Chimera
Press Release:
Influenced by the artist's extensive travels through India, Africa, and Europe, Lee Essex Doyle's miniature jewel-like paintings capture fleeting glimpses of the world. Through mastery of color and rhythm, she expertly depicts landscapes and interiors layered with patterns, textures, and vibrant hues. Essex Doyle's latest Chimera series reveals her remarkable ability to encapsulate the very essence of a place, whether it be the cerulean domes of Santorini or the lace-like marble of the Taj Mahal.
As an avid traveler, Essex Doyle finds inspiration in the art and architecture of each new location and culture she encounters. Architectural elements – arcades, screens, domes, minarets – combine with ornate pattern and vibrant color to give an authentic sense of place.
The artist's travels are dedicated to gathering material for her work through photographs, site drawings, and visual observation. Back home in her studio, she pieces these together with her own memories and impressions of a place. For the artist, "A finished painting is the act of fixing in time an impression of millions of feelings, thoughts, images, and longing and like all memories there are so many versions that are true."
The blending of imagery and pattern, memory and record, ties perfectly into the series title, Chimera. In mythology, the Chimera was a fire-breathing amalgamative monster with the body of a lion, a goat's head protruding from its back, and a serpent for a tail. In modern usage, a chimera can also refer to either a biological organism composed of at least two genetically different kinds of tissue, or a wild and unrealistic dream or idea. Essex Doyle's combining of architecture, decoration, memories, and visual records create pictorial chimeras: hybrids of color, pattern, and location. They are illusory images of real-world places; whimsical scenes crafted within the mind of the artist taken from various sources.
However fanciful the artist's gem-like paintings may be, they are grounded in reality, based upon places to which she has traveled and the audience may hope to visit. Even the intricate overlaying patterns adorning each work reference textiles, stonework, and other architectural elements associated with each location. Essex Doyle enlivens her paintings with the sense memory of every artisan responsible in creating the extraordinary villages, temples, palaces, and cloisters she captures. Combining their artistry with her own, Essex Doyle further heightens the chimera effect of her worldly paintings.
Colorful and dreamlike, the work of Lee Essex Doyle offers glimpses of far off locales that feel iconic yet tangible. Even if one has never been to the Greek Isles, India, or wherever the artist has found herself, the locations are instantly recognizable, not just through architecture alone, but also the feeling Essex Doyle imparts upon her work. The hues, the patterns, the buildings all harmonize into a sense of location and presence, palpable whether one is personally familiar with the place or not. In her miniature paintings, the artist creates miniature worlds, intimately felt through thoughtfully layered compositions that capture the elements which make a destination memorable.
The artist will be present at the opening reception, held Thursday, July 11, from 6 to 8pm.
On exhibit until August 30th, 2019