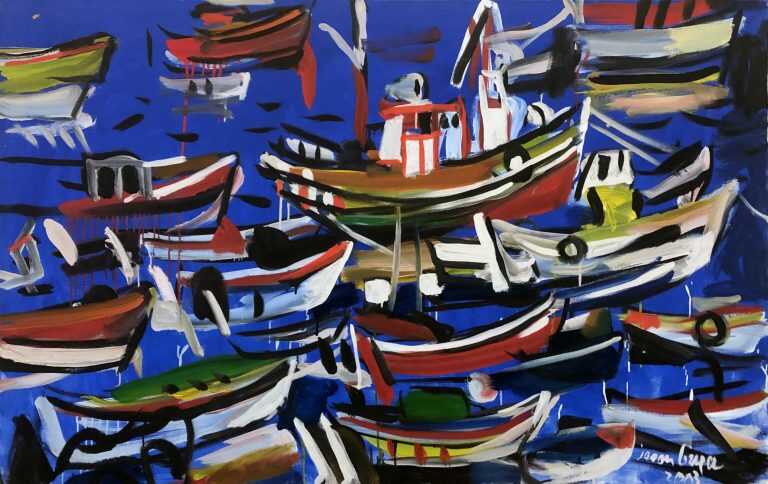 Portuguese Summer: Paintings by Jason Berger
Press Release:
Boston Expressionist painter Jason Berger began visiting Portugal in the early half of the 1970s and would return for a part of almost every summer for the next twenty years, before moving there permanently in 1994. Berger painted mostly in the Algarve, Portugal's southernmost region known for its beautiful beaches and sparkling water, yet he eschewed these scenes in favor of others he considered more visually and intellectually interesting – buildings, trees, streets, boats – anything that would produce an expressive landscape. Portuguese Summer celebrates the artist's love of the country, and his uncanny ability to encapsulate its vibrant hues and atmosphere on canvas. Works in the exhibition span four decades, detailing Berger's summer sojourns and eventual residency in his adopted homeland and longtime muse, Portugal.
Berger first visited Portugal with his then wife, artist Marilyn Powers, in the early 1970s. The artist recalled, "We spent a month in Faro and a month in Portimão… I was very happy with the motifs I found there, and Portugal certainly affected my painting style." After Powers tragically passed from breast cancer in 1976, Berger returned to Portugal the next summer on a painting excursion with his son and a former student, staying in the small fishing village of Ferragudo. On this trip he met Estela Couto, who would become his second wife in 1978. Subsequent summers were spent on property owned by Estela's family – her mother's house in Carvoeiro and her grandmother's house in Lagoa. Berger remained in Portugal even after Estela's death in 1997, later marrying artist Leena Rekola in 1999. The couple lived and painted together in Portugal for nearly a decade, only moving back to the United States in 2008 due to Jason's poor health.
Berger's summers abroad were a prolific time for the artist. He worked en plein air in Portugal, rising early between 5 and 8 o'clock in the morning before heading out to spend an entire morning, day, or several days on one painting. He worked on motifs, painting the same scene - a garden, boatyard, café, whatever else - multiple times, exploring different colors and angles. The resulting variations uniquely detail the effects of light and perspective on a singular location, showcasing Berger's particular approach to his environment and landscape painting.
Portuguese Summer visits some of Berger's favorite towns and villages in the Algarve, including Carvoeiro, Estombar, Mexilhoeira, Silves, and Tavira. Berger also painted along the west coast of Portugal in Aveiro, Colares, Parede, and the capitol, Lisbon, where the artist and Estela had an apartment and would meet each July before traveling down to the Algarve coastline.
Of Berger's connection to Portugal, Estela once noted: "He loves to paint in Portugal. For some reason, he feels very comfortable with the landscape here, as well as with the country and the people. He may have some difficulty with language, but he has an association with the people and the country that is fascinating to observe." Portuguese Summer celebrates this love of the land through paintings bursting with the vivid colors of Berger's seaside summers along Portugal's Atlantic coast.
On exhibit until September 16th, 2023