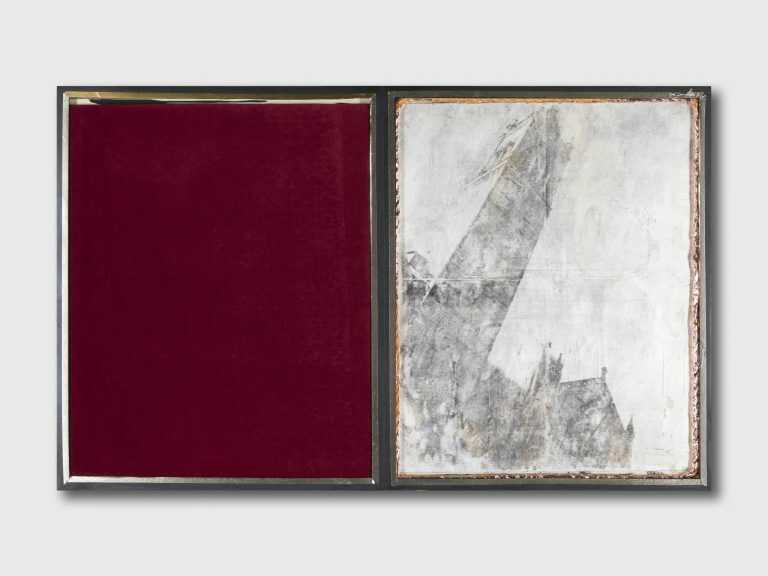 Raphaël Jaimes-Branger: Monumental, An Homage to Louis Daguerre
Press Release:
Since discovering daguerreotypes in a dusty attic in his childhood home, Raphaël Jaimes-Branger has been fascinated with the early photographic method. Their silvery surfaces captivated his imagination, leading to an adulthood search to replicate the daguerreotype's physical properties without the use of harmful chemicals.
Daguerreotypes, the first publicly available form of photography, were developed by French artist Louis Daguerre in 1839. The process involved a highly polished silver-plated sheet of copper, treated with a light-sensitive substance that would be exposed to light, then developed with mercury fumes, and finally sealed within an enclosure to protect its delicate surface.
In this exhibition, Jaimes-Branger pays tribute to this process via a technique of his own invention, without the possible fatal consequences of mercury exposure. Through a process the artist dubs "xylotype," an image is transferred using xylol onto an acrylic sheet that has been églomisé with silver leaf. The resulting image mimics the look of an early daguerreotype. Jaimes-Branger further heightens the effect by mounting the xylotype in a double frame with hand embossed velvet on the left panel and the image on the right, a structure reminiscent of those originally used to house fragile daguerreotypes.
Jaimes-Branger's choice of subject matter, art and architecture, reflects his desire to indulge in beauty for beauty's sake as a reprieve from today's tumultuous political climate. For inspiration, he looks both at home and abroad. Familiar landmarks include Boston's Old South Church and the Emancipation Memorial in Park Square. The exterior statues of the Palais Garnier, Paris' famed opera house, are also treated to the artist's silvery ghostly rendering. Each image is paired with a panel of hand embossed velvet, distressed just enough as to complete the illusion of a time-worn treasure. The overall effect of looking upon Jaimes-Branger's works is that of remembering; his images seemingly conjure memories of beautiful places that feel foggy or half-forgotten. Though contemporary, innovative pieces, they read as relics from another era.
Jaimes-Branger's artwork basks in the grace of public art and monuments, works created to embellish urban areas and enhance the quality of daily life for everyday citizens, while also embracing the sentimentality of photographs. By bridging photography, an early socially-equalizing art, and public works intended to uplift the common man, Monumental, An Homage to Louis Daguerre celebrates beauty that is accessible to us all.
The artist will be present at the opening reception, held Wednesday, May 22, from 6 to 8pm.
On exhibit until July 7th, 2019