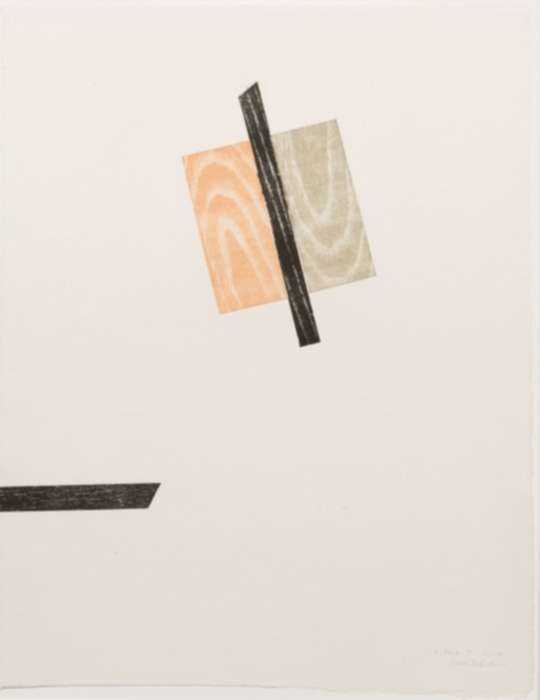 Ruth Eckstein: The Graphic Works
Press Release:
Ruth Eckstein
Abstract Modernist
January 12 – March 11, 2017
Opening reception: Sunday, January 22, 12- 2 PM
BOSTON, MA – Ruth Eckstein: Abstract Modernist, a retrospective exhibition of the abstract modernist painting and master printmaking of Ruth Eckstein (1916-2011), is part of Childs Gallery's continuing effort to highlight important artists working outside the male-dominated world of Abstract Expressionism at the mid-20th Century. Critical success was an all-too-rare achievement for a female artist trying to gain a foothold in the competitive, even prohibitive art market of the postwar period and this exhibition aims to shed new light on Eckstein's masterful contribution to modern abstract painting and printmaking.
Among the crowded field of 20th-century art, Eckstein stands apart for her refined organic abstractions. Her pared-down compositions layer flat planes of color and texture, balancing simplified forms and gentle color harmonies to create a remarkable sense of tranquility. Childs Gallery's exhibition surveys Eckstein's monumental body of work with examples of painting, collage, and a wide array of printmaking techniques, including collagraphy, etching, and screen printing.
Eckstein's tranquil compositions belie her tumultuous beginnings. A fugitive of Nazi Germany, she immigrated first to the provisional safety of neighboring Paris in 1934 and finally to New York in 1939. There she found asylum within a burgeoning network of émigré artists living in political exile. Her life and art intersected with a number of influential figures in postwar American art. She studied with Stuart Davis at The New School for Social Research, and with Harry Sternberg, Julian Levi and Vaclav Vytlacil at the Art Students League, where she immersed herself in printmaking techniques as well as painting and drawing. Later, intrigued by the woodcut technique of printmaker Seong Moy, Eckstein studied with him at the Pratt Graphic Art Center.
An accomplished painter and printmaker, Eckstein enjoyed switching freely between various mediums and techniques. "I do not like being confined to a single medium. I like the excitement that comes from switching modes. I like to 'walk' around an idea, deal with it in various ways," she explained. This is markedly evident in Eckstein's prints, which often incorporate collage or layer multiple processes, combining relief, intaglio, and planographic elements in the same work.
Of particular note is Eckstein's technical mastery of collagraphy, an experimental printmaking technique in which collage materials are glued onto a board to form a relief surface with a variety of textures. This collage-matrix is then inked and printed on paper. In these layered compositions, frequently embellished with hand-painted accents or careful etching, there is a delight in giving the appearance of spontaneity, encouraging us to question the relationship between competing hues or the proximity of a smooth circle to a foreboding edge.
Eckstein's paintings echo the pared-down compositions of her prints. Owing a clear debt to Color Field painting and Barnett Newman's "zips", Eckstein's Black Fields and Portals series incorporate large fields of flat, solid color. Much lauded for their formal sensitivity, Eckstein's compositions expertly balance subtle modulations of color and shape; in others, tilted geometric designs with clear bold colors, provoke a tension between balance and motion.
Eckstein's work is represented in over fifty prestigious public collections, including the Museum of Fine Arts, Boston; the Museum of Modern Art; the Guggenheim Museum; the Metropolitan Museum of Art; the Whitney Museum of American Art; the Bibliotheque Nationale, Paris; the National Museum of American Art; and the Harvard Art Museums.
Childs Gallery will hold an opening reception for the exhibition on Sunday, January 22, 12-2 PM.
About Childs Gallery: Established in 1937 on Newbury Street in Boston's Back Bay, Childs Gallery holds one of the largest inventories of oil paintings, drawings, watercolors, prints and sculpture in the United States. We actively service collectors, artists, estates and corporate clients throughout the country in the buying and selling of fine art, and have placed exceptional works in major museums nationwide. Our extensive holdings – including prints and drawings that range from Old Masters to 20th century notables to 21st century contemporaries, along with superb paintings and sculpture from the past 200 years – are particularly appealing to the eclectic tastes of today's art lovers, as it's the collector's eye, not the historic period or medium, that makes for a cohesive and personally satisfying collection.
For hi-res images and all press inquiries, please contact the gallery at:
info@childsgallery.com
169 Newbury Street
On exhibit until March 18th, 2017