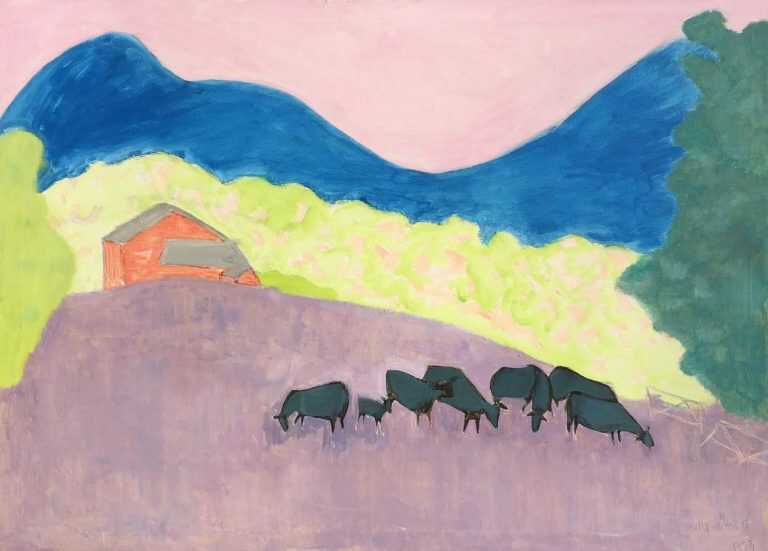 Sally Michel: Idyllic Moments
Press Release:
Sally Michel's paintings exude a joyfulness indicative of a life well-lived. Drawing inspiration from her immediate surroundings, Michel's work primarily focuses on her intimate world: landscapes glimpsed on vacations, domestic scenes with friends and family, and charmingly irreverent everyday objects found at home and abroad.
Michel painted in a distinctive style of simplified shapes and lively colors, developed during the long collaborative career between herself and husband, Milton Avery. Michel and Avery met during a summer spent painting in Gloucester, Massachusetts in 1924. At the end of the summer, Avery followed her back to New York where Michel was studying at the Art Students League, and two years later, they were married. While Avery pursued painting fulltime, Michel was the family breadwinner, working in commercial art and illustration to make ends meet. She painted only when time allowed and in doing so, created work reflective of her appreciation for both the playful and the domiciliary.
In the 1930s the Averys befriended fellow New York artists Mark Rothko, Adolph Gottlieb, and Barnett Newman. The group would vacation and paint together, often discussing art theory and critiquing one another's works. Though Rothko, Gottlieb, and Newman would go on to become amongst the foremost Abstract Expressionists, the Averys never abandoned the representational aspect of their art. They instead forged ahead into a new kind of Modernism, reinterpreting color, line, and form to render recognizable, yet abstracted images.
Throughout her career, Michel crafted an oeuvre that conveys moods and emotions. Her paintings alternatively feel cozy, quiet, lively, happy, content, and humorous depending on the scene. Whatever the image, Michel's work often focuses on relations, be it between people, animals, or objects, and explores the various feelings inherent in such connections. Bottle Baby and Untitled [Heron and Her Young] both display the maternal affection between mothers and their young. Untitled [Woman with Outstretched Arms and Doves] captures a whimsical moment outdoors between a smartly dressed woman and a flock of birds. Bathers by the Stream envisions a family sojourn beachside, some figures simply enjoying the sun while others venture into the water. In each piece, Michel plays with her figural groupings to elicit an emotional response in her viewers. The general feeling of each piece is an overwhelming pleasantness, engendered by Michel's creation of cheekily colored bucolic worlds populated by friends and family.
Michel's work, however, cannot be reduced to merely pretty hues and agreeable subjects. Her simple shapes and flattened planes demonstrate a hand adept at form without the need for over description. It is these lines and shapes that beckon the eye to linger within her paintings, to follow along and distinguish various figures and their spatial relation. The pleasing, if unusual, colors then allow one to idle within the picture plane, while the emotional levity invites further stay.
Michel was modest about showing her paintings and watercolors until much later in life. In painting for her own sake rather than the art market, she was able to craft work that manifests a playfulness born from the small, everyday occasions in life. Idyllic Moments explores both Michel's world and persona through her artwork, revealing a character of infectious passion and talent. Michel was a mother, wife, friend, adventurer, and above all else, artist, intent on sharing her joie de vivre with the world.
On exhibit until May 12th, 2019