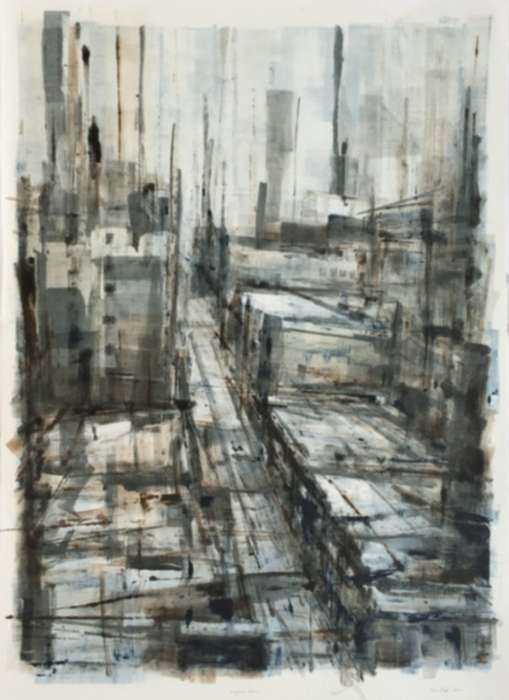 Sean Flood: Residual Layers
Press Release:
FOR IMMEDIATE RELEASE
Sean Flood
Residual Layers
March 16 – May 13, 2017
Opening reception: Thursday, March 16, 6 – 8 PM
BOSTON, MA – Boston based contemporary painter Sean Flood returns to Childs Gallery with the exhibition Sean Flood: Residual Layers, on view March 15 – May 13, 2017. Best known for his large scale cityscapes and urban scenes, Flood's latest paintings and prints of Boston and New York examine the complex layers and overlapping structures of the urban landscape. A reflection of the artist's roots in construction and street art, Flood's paintings layer line and form to build up his images like the very high-rises they depict.
Born and raised on Boston's South Shore, Flood has always been drawing. He took visual arts and drawing courses in school, as well as summer classes at the Massachusetts College of Art and Design. In 2000, Flood enrolled at the Art Institute of Boston, where he was introduced to painting through a course taught by Boston artist George Nick. He received his BFA in Fine Art from the Art Institute of Boston, Boston, MA in 2005. By the end of his college experience, Flood's primary focus was cityscapes, perhaps influenced by his first hand exposure to his father's life work in the construction business.
Flood's enthusiasm for urban life is evident in the way he depicts that which makes a city, a city: the atmosphere, energy, and architecture. His approach to painting urban scenes and structures simulates and celebrates both the energy of the city and the construction process. Flood's dynamic compositions combine mark making and abstraction in a style fueled by and rooted in street art. His paintings are built up layer upon layer, mirroring the construction process from foundation to structure to completed form. In his final paintings, residual layers reveal both Flood's process and the structural framework hidden just beneath the surface of the city.
Being able to see this process is an important part of Flood's approach to painting: "I really enjoy works where you see the search, you see the drawings, you see even mistakes or variations or changes. I think that keeps it fresh. It's almost like a construction site. You see a finished house and ask, what did it take to do all that? You're starting with the framework. Every aspect up to the completed version. That's what I like to see in a work of art, that whole process."
Flood's latest body of work reflects an ongoing dialogue between his oil paintings and recent graphic work. Fresh off a residency at the Center for Contemporary Printmaking in Norwalk, CT, Flood has recently expanded his talents to the field of printmaking. His prints of cityscapes and skyscrapers take advantage of the monotype medium's unique spontaneity and immediacy, layering line and form to harness the frenetic energy of the city. In some prints, monotype is combined with other techniques, such as etching and aquatint, to achieve a wider variety of lines and marks.
The monotype process has reinforced Flood's interest in layered images. A monotype is created with a preliminary drawing in ink on a plexiglass plate, which is then printed. A fresh plate is used for a second drawing and this second layer is then printed over the first layer, and so on, building up the image layer by layer.
The printing process has informed Flood's painting in turn: "I find myself very interested in the interaction of marks and layers in both my print work and paint… Now I approach my paintings more like the prints, as the application of layers." Flood now thinks about his paintings in terms of distinct layers, drawing or painting a single layer per session, letting it sit, and going back over the image again and again in subsequent sessions. Like his prints, the paintings slowly take shape, built up from the canvas one layer at a time.
Flood's work has been exhibited at the deCordova Museum, Duxbury Art Complex Museum, the St. Botolph Club, and The Copley Society. His paintings have also been on view at Boston City Hall. He is a recipient of the 2016 Stobart Foundation Grant and The Copley Society of Art Scholarship Award. Flood was juried into the Copley Society as a member in 2011. His work has appeared in the Boston Globe, Artscope Magazine, and Boston Magazine, among others. He maintains a studio in Abington, MA.
The artist will attend the exhibition's opening reception at Childs Gallery on
Thursday, February 16th, between 6:00 and 8:00 PM. The public is welcome to attend.
About Childs Gallery: Established in 1937 on Newbury Street in Boston's Back Bay, Childs Gallery holds one of the largest inventories of oil paintings, drawings, watercolors, prints and sculpture in the United States. We actively service collectors, artists, estates and corporate clients throughout the country in the buying and selling of fine art, and have placed exceptional works in major museums nationwide. Our extensive holdings – including prints and drawings that range from Old Masters to 20th century notables to 21st century contemporaries, along with superb paintings and sculpture from the past 200 years – are particularly appealing to the eclectic tastes of today's art lovers, as it's the collector's eye, not the historic period or medium, that makes for a cohesive and personally satisfying collection.
For hi-res images and all press inquiries, please contact:
Richard Baiano
On exhibit until May 13th, 2017