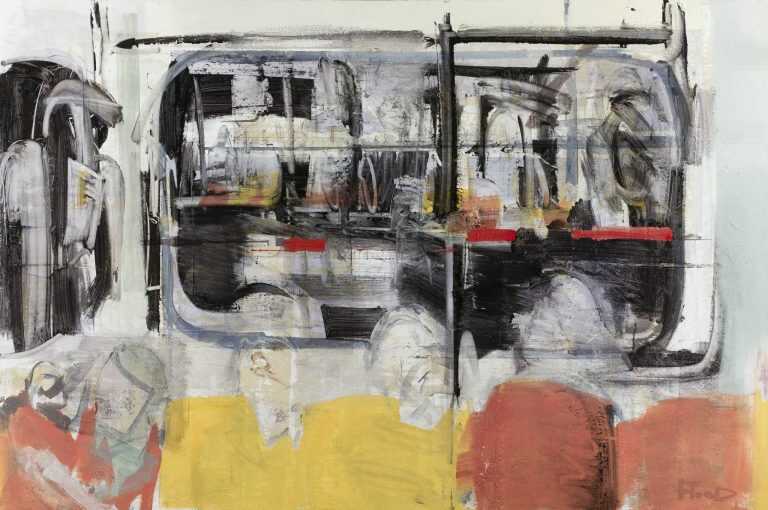 Sean Flood: Subterranean/Surface
Press Release:
BOSTON, MA – In his third solo exhibition with Childs Gallery, Sean Flood explores the New York Transit system, connecting his familiar cityscapes to a frenzied, labyrinthine world below. In prints and paintings, Flood observes the subway and its structures, uniting and confusing space, while paying close attention to the passengers and their interactions. By layering reflections and using mark making to interpret the sound and movement that comes with the hustle of commuting, Flood introduces the viewer to a new perspective of this underground world.
Flood's artistic methods have always cleverly mimicked the building process itself, revealing structural layers of architecture, ink, and paint through strong, deliberate strokes. His technique transfers seamlessly underground in his new work, modelling the subway system through its distinctive shapes and forms.
Much as Flood's unique mark making animates his cities with urban buzz, his subways epitomize the hurried energy of public transit. But here underground, Flood also has concerns beyond simply capturing the start-stop motions of a train car. He details human actions and interactions within these enclosed spaces, documenting feelings, moods, and behaviors instantly recognizable to an audience. Flood sets up these scenes through subway doors and windows, expertly framing his passengers in layers which separate them from the viewer.
Flood has not entirely left behind his skyscrapers for the subway. Subterranean/Surface is rounded out with cityscapes of Boston and New York (both home bases for the artist), complimenting his new underground venture with recognizable skylines and streets. New scenes include Boston's soaring One Dalton tower, Manhattan streets, and the artist's own studio interior. In both his above and below ground images, Flood's paintings and prints continue to inform one another through artistic dialogue. His lively mark making in oil echoes the striking lines of monotype and etching, and vice versa. Whatever the media, each piece is built up layer by layer, exposing the constructive framework of Flood's process with a juxtaposing sense of deliberate spontaneity.
Through subways and cities, Flood paints a vivid ode to urban life both below and above ground, perfectly encapsulating a bustling metropolitan atmosphere. Subterranean/Surface journeys between these worlds, twisting through subway tunnels and dizzyingly crowded streets that sing with the cacophony of city living.
An opening reception for the exhibition will be held Thursday, September 5, 6-8pm. The artist will be in attendance.
On exhibit until November 10th, 2019