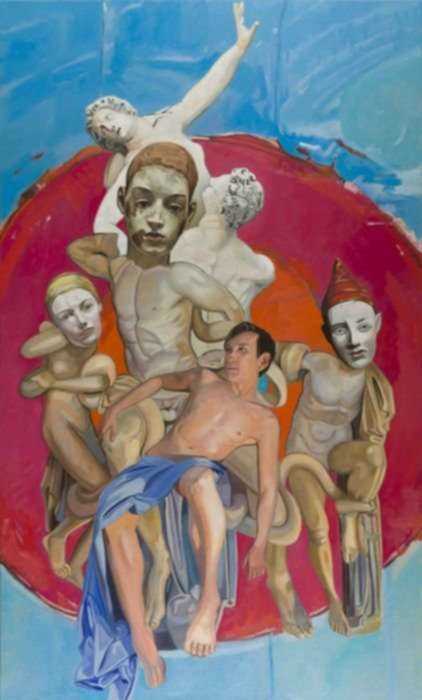 Thomas Darsney: Fabric & Flesh
Press Release:
Thomas Darsney
Fabric & Flesh
July 13 – September 1, 2017
Opening reception: Thursday, July 13, 6-8 PM
BOSTON, MA – Childs Gallery is pleased to present the contemporary figurative paintings of Thomas Darsney in the exhibition Thomas Darsney: Fabric & Flesh, on view July 13 – September 1, 2017. Darsney's fascinating paintings reveal a palpable tension between the tactile sensuousness of fabric and the subdued brushstrokes of paint made flesh. United by this visual juxtaposition, the artist's masterful compositions pay tribute and homage to various painting masters through the inclusion of art historical references.
Born and raised on Boston's North Shore and currently based in Salem, Darsney realized at an early age that his purpose was to create. As an artist, Darsney brings to mind the well-adjusted and self-actualized "creative type," first described by early 20th century psychoanalyst Otto Rank. Darsney has lived life with a hands-on approach, delving enthusiastically into multiple creative endeavors, including architecture and carpentry. Only recently has Darsney taken up the brush. After honing his skill for craftsmanship, and inspired by his own understanding of the aesthetic, Darsney has capitalized on his creative potential through the vehicle of painting.
Darsney began his exploration into painting with a simple study of a chair. He developed a series of still lifes of this single object, working with a zealous fervor to perfect its image. He began to disassociate the chair as an object, instead perceiving it as a muse, whose shapes, colors, and curves come together in the form of a chair.
As Darsney's work has developed, his compositions and influences have evolved. An auto-didactic artist, Darsney draws inspiration from a variety of sources, including The Boston School and iconic masters such as Vermeer, Rembrandt, and Degas. These artists' attention to detail and adherence to classical ratio, coupled with Darsney's own innate sense of structural integrity, inform his vision. He is also particularly influenced by the art on view in Boston museums and collections.
Darsney is highly invested in both the structural design and integrity of the work, as well as the viewer's experience. Each mark upon Darsney's canvas has been carefully thought out and placed with purpose. He describes the process of painting as, "a construction site. You're always aware of the final product and the grounds as a whole, however along the way, you'll scrutinize certain details needing attention – such as a piece of molding in the basement, a loose shingle in the roof… They always exist and are forefront in your mind."
During the "construction" of a painting, Darsney keeps the viewer's experience forefront in his mind. Adhering to a classical model of ratio, synthesis, and proportion, he uses orthogonal and perspective lines to lead the eye on a circumambulating path of the entire canvas. His aim is for the eye surveying the final product to not be fixed or stagnant, nor fall off of the visual plane of the work. Instead the viewer's eye should flow throughout the picture, relishing each detail, and drawn on to the next by a gentle pull. Darsney achieves this subtly and coherently through developed principles of design.
The figure, a common subject throughout Darsney's most recent body of work, is used as a device to enforce the underlying lines and shapes of the composition as a whole. The crooked arm of a woman mirrors a cresting rail of a chair. The undulating rungs of a radiator reflect the figure's curved breasts in the foreground. The arched wings of an angel in the background are echoed in the negative space of the small of the figure's back.
Darsney's paintings are also flush with historical allusions, paying homage to the painting masters who have inspired him. Figures draped in fabric reference his debt to Classicism, with its rational laws of proportion and synthesis. In several paintings, he uses renowned works of art to frame his compositions. Paintings reference Botticelli's Birth of Venus, Klimt's 'Golden Phase', and Matisse's La Danse. In The Ghost of Isabella, Darsney interprets the paintings stolen during the infamous art heist of The Isabella Stewart Gardner Museum. References can also be seen in his choice of fabrics, including Renaissance tapestries and Oriental textiles.
Darsney has exhibited at The Guild of Boston Artists, the Copley Society of Art, and Childs Gallery's group exhibition: The Art of Scandal. His work has been illustrated and acclaimed in The Boston Globe, and The Salem News.
The artist will attend the exhibition's opening reception at Childs Gallery on Thursday, July 13th, 6-8 PM. The public is welcome to attend.
About Childs Gallery: Established in 1937 on Newbury Street in Boston's Back Bay, Childs Gallery holds one of the largest inventories of oil paintings, drawings, watercolors, prints and sculpture in the United States. We actively service collectors, artists, estates and corporate clients throughout the country in the buying and selling of fine art, and have placed exceptional works in major museums nationwide. Our extensive holdings – including prints and drawings that range from Old Masters to 20th century notables to 21st century contemporaries, along with superb paintings and sculpture from the past 200 years – are particularly appealing to the eclectic tastes of today's art lovers, as it's the collector's eye, not the historic period or medium, that makes for a cohesive and personally satisfying collection.
For high-res images and all press inquiries, please contact:
info@childsgallery.com
169 Newbury Street
On exhibit until September 17th, 2017